June 7th, 2022: Added support for generating a new Easy Passthrough token after an entry has been updated (via the new refresh_token parameter).

January 17th, 2022: Improved compatibility with Gravity Forms Limit Submissions.

April 8th, 2021: Migrated to Snippet Library. Added support for deleting Partial Entries.
This article requires the GP Easy Passthrough perk.
Buy Gravity Perks to get this perk plus 47 other premium Gravity Forms plugins!
Overview
If you have ever filled out a form anywhere on the web, you've probably wanted an easy way to edit the entry. It's easy to skip a field, typo a postal code, or worse. Have you ever submitted a form with your own name misspelled? I have. It's embarrassing.
The most common reason most forms don't offer an edit option is that it's complicated. Forms are typically designed for a simple task: capture user input one time. They often lack the capability to retrieve a previous entry, let alone make edits to that entry.
We're going to show you an easy way to add that capability to any of your Gravity Forms with GF Easy Passthrough.
Using the Snippet
Prerequisites
Confirm that you have Gravity Forms and Easy Passthrough installed and activated and that you've installed the snippet.
Step 1 – Set Up an Easy Passthrough Feed
Navigate to the form's Settings and click on Easy Passthrough to set up an Easy Passthrough feed.

Set the form as its own Source Form. All of the standard fields will automatically map because the source form and target form are the same form.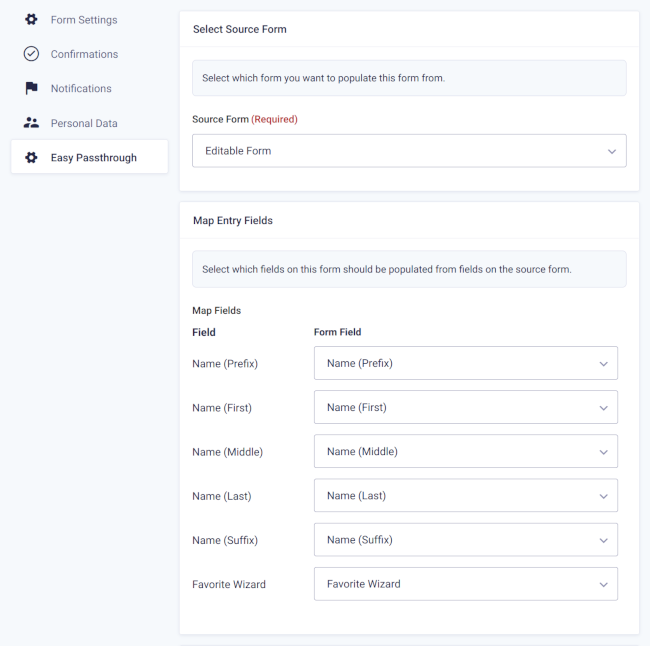 Step 2 – Configure the Snippet
Gravity Forms doesn't include a built-in way to edit entries on the front end. This simple snippet will grab the last submitted entry ID (via Easy Passthrough) and use that to update the entry when the form is submitted.
To use it, update the form_id to your form's ID.
new

 

GPEP_Edit_Entry

( 

array

(
	

'form_id'

        => 

123

,   

// Set this to the form ID


	

'delete_partial'

 => 

false

, 

// Set this to true to delete partial entries if enabled


	

'refresh_token'

  => 

true

,  

// Set this to true to generate a fresh Easy Passthrough token after updating an entry.


) );
The snippet supports Partial Entries. Set delete_partial to true to automatically delete any lingering partial entries when the updated entry is submitted.
If you would like to use Easy Passthrough tokens as a one-time password for editing entries, set the refresh_token parameter to true. When the entry is edited, the token will be regenerated and the entry will be cleared from the session.
Wrapping Up
If a visitor submits a form and navigates back to the form, Easy Passthrough will automatically pre-populate all of the form's fields with the previous entry. Then, thanks to the snippet, the existing entry will be updated instead of creating a new entry.
Easy Passthrough uses a session cookie to pass data from one form to another. If that cookie is expired, it will not pass any data.
For users that have an account on your site, you can activate the "Use logged in user's last submitted entry" option in the Easy Passthrough settings. This automatically refreshes the session cookie so data will always be passed for the configured form.
Help Us Take it Further
This is designed to work as simply as possible but there is a lot we could do from here. Tell us how you'd want to use this. We'll collect your feedback and improve the functionality over time.
Did this resource help you do something awesome with Gravity Forms?
Then you'll absolutely love Gravity Perks; a suite of 47+ essential add-ons for Gravity Forms with support you can count on.