January 21, 2020: Updated snippet to be simpler and more aggressive.
Overview
In my experience, autocomplete is generally more helpful than harmful but there are times when it just gets in the way. For those times, use this handy snippet to disable this feature.
Using the Snippet
Confirm that you have Gravity Forms installed and activated and that you've installed the snippet. Once you have installed the snippet, you're good to go! This one's plug and play!
This snippet will apply to all forms and all fields. If you'd like to only apply this to specific forms and/or specific fields, let us know in the comments.
Autocomplete in Gravity Forms.
By default, Gravity Forms outputs HTML5 fields. The HTML5 spec offers a framework for labeling fields so the browser can automatically complete forms with previously-entered information. In short, you don't have to do anything for Gravity Forms to activate autocomplete on your forms.
There is an option in Gravity Forms' Settings that allows you disable HTML5 output. This will disable autocomplete for those fields, but we don't recommend it. Disabling HTML5 also removes many other useful features, such as automatically displaying a different mobile keyboard when a Phone or Email field is selected. Instead, you can use this snippet to only disable autocomplete while keeping the rest of the HTML5 goodies.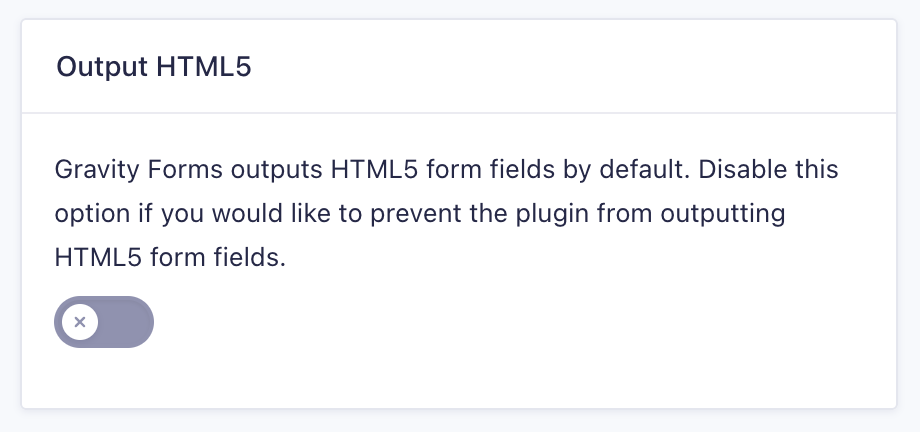 How autocomplete works in different browsers.
Autocomplete behavior differs between browsers. While HTML5 standards dictate how autocomplete should work in general, it leaves some room for interpretation. Browser manufacturers use slightly different implementations for triggering autocomplete, and while the user experience is mostly identical, the technical differences create a situation where a one-size-fits-all solution for disabling autocomplete isn't possible.
The spec itself states that the autocomplete attribute can be added to any input, select, or textarea to change the autocomplete behavior of those fields. It furthers states that the use of the off value should disable autocomplete for that field. This works in many browsers, but not all. Below is a breakdown of how different autocomplete values are interpreted by different browsers.
| | |
| --- | --- |
| off | Works in all browsers except Chrome. Chrome ignores autocomplete="off" for fields that it detects as requesting personal information (i.e. fields with labels like Name, Phone, or Address). It does respect off to non-personal-information fields. |
| password | Works in Chrome to completely disable autocomplete. Does not work in other browsers. |
Because of the different behaviors in browsers, our snippet does a quick User Agent check to determine what browser is loading the form. It then assigns the appropriate autocomplete value for that particular browser. In our testing, autocomplete is disabled in all browsers on both desktop and mobile.
Find a browser where autocomplete is still active with the snippet installed?
Drop us a line
.
Did this resource help you do something awesome with Gravity Forms?
Then you'll absolutely love Gravity Perks; a suite of 47+ essential add-ons for Gravity Forms with support you can count on.