February 4, 2022: Migrated snippet to the Snippet Library.

September 25, 2019: Fixed issue when jQuery is enqueued in the footer.
With the new Strong Customer Authentication rules in mind, the Gravity Forms Stripe Add-On has replaced the modal window with a full-page display for Stripe Checkout. Customers are now redirected to the Stripe Checkout page, and after payment is completed they are redirected back to your Gravity Forms Confirmation Page.
To make it easier for your customers to see that they'll be sent off to an external payment page, one of our customers thought it would be a good idea to dynamically update the text on the Submit button if a certain choice was selected in their form. We agreed that it was a good idea, so we built a plugin to do it.
Getting Started
This tutorial assumes you're running the latest version of Gravity Forms and the Gravity Forms Stripe Add-On.
| | |
| --- | --- |
| | Download, install, and activate the plugin. |
| | Set your custom Submit Button Label in the Stripe feed settings. |
| | Optionally set conditional logic for the Stripe feed. |
Detailed Usage
Once the plugin is activated, it will add a setting to your Stripe feeds called "Submit Button Label". Whatever you type into this setting will replace the Submit button. This setting is specific to each form, so you can have custom form labels on a per-form basis, if you'd like.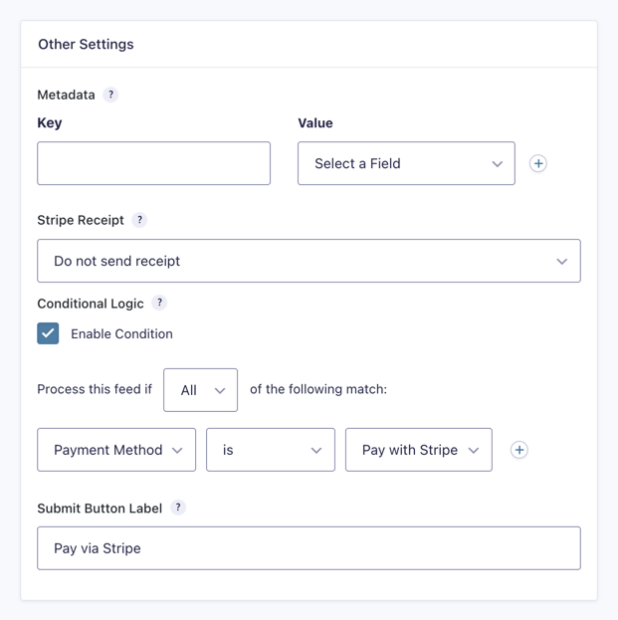 If your form has multiple payment feeds, you can use Conditional Logic to determine which feed to use. When a user selects the choice to use the Stripe payment method, the submit button will update automatically.

Questions? Feedback?
What questions do you have? What features are missing? We'd like to make this into a more robust plugin and your feedback will be a big part of shaping the final product.
Did this resource help you do something awesome with Gravity Forms?
Then you'll absolutely love Gravity Perks; a suite of 47+ essential add-ons for Gravity Forms with support you can count on.