Greetings, wizards!
Look… I'm not going to pretend that I like math or that I'm even particularly good at it. Growing up, I thought crunching numbers meant eating another bowl of alphabet soup. And those weren't even numbers.
You know what I am good at though? Listening. And I hear you.
Yes, Gravity Forms calculations provide an excellent foundation for basic arithmetic and simple equations. But that's just not enough for a gnarly number cruncher like you.
You need to forecast investment strategies, calculate monthly car payments, and estimate mortgage preapprovals. After lunch, you have to build a cost calculator for an old friend's construction business. And don't forget that BMI calculator for your sister's fitness blog.
I know you're a math wiz but you just don't have the right wand for the job.
Today, I don't have to pretend to be excited to introduce our newest perk, Gravity Forms Advanced Calculations!
Advanced Calculations reinvents Gravity Forms calculations from the ground up with an array of advanced mathematical functions, clever conditionals, formula optimizations, and a potent formula editor that puts all of these features at your fingertips.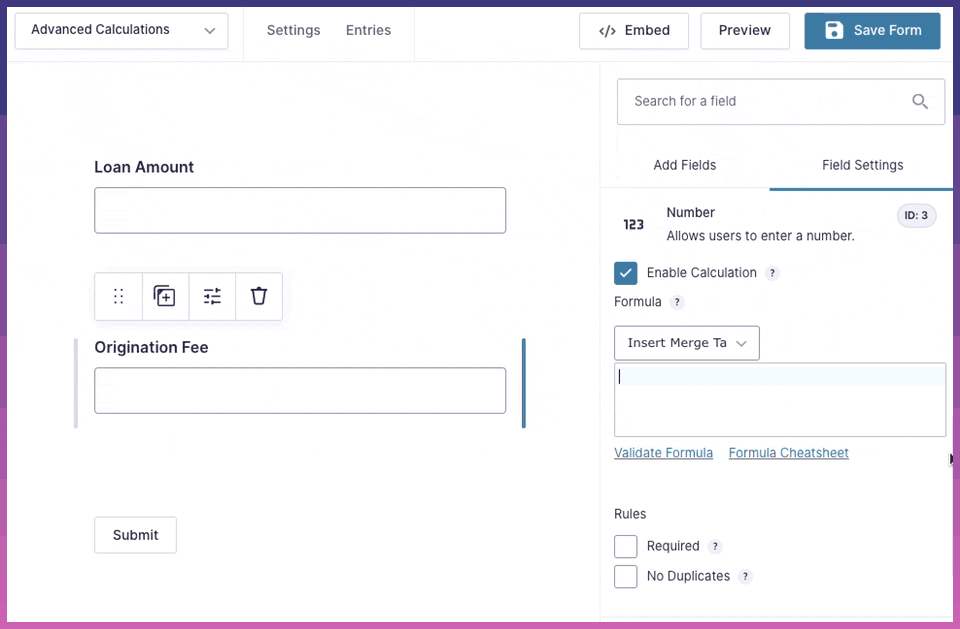 Can I tell you a bit more?
Heaps of Math Functions — Get absolute values, averages, ceilings, and floors. Max and minimum values, and more! Plus, Advanced Calculations is powered by a flexible framework that lets us add new functions on the fly.
Conditional Formula Statements — Stop creating multiple calculation fields and using conditional logic to execute the correct calculation. With Advanced Calculations, you can build the conditional logic directly into your formula with a single field.
A Sorcerous Formula Editor — Seriously. Crafting formulas with Advanced Calculations is a genuine pleasure. With autocomplete for functions and conditionals, shorthand for referencing fields, and tasty syntax highlighting, you'll be living in the future.
Secure, Tamperproof Calculations — Just like core Gravity Forms calculations, all advanced calculations are recalculated on submission to ensure your results are accurate and secure.
And don't forget, Advanced Calculations is backed by our absolutely legendary support. You can count on us. #mathpun 😉
We're releasing the first beta today and we're keen for your feedback. Does Advanced Calculations remove a limitation you were facing? Did we miss a math function critical to your application? We want to know!
If you're ready to start solving problems with Advanced Calculations, it's available now in your WordPress admin (Forms › Perks › Install Perks in your admin menu). Prefer to download it? Just log in to your Gravity Wiz account and go to your Downloads page.
Let's crunch some numbers!