One of the world's greatest wizards (*cough*SantaClaus*cough*) told us exactly what you wanted for Christmas — an easy, flexible way to schedule notifications with Gravity Forms.
We didn't have any elves to help us, so we whipped out our finest wands and got to work. We're so excited about the finished product that we simply can't wait for Christmas to give it to you!
Today, I'm thrilled to announce the release of Gravity Forms Notification Scheduler 1.0.
What does it do?
With Notification Scheduler, you can finally schedule Gravity Forms notifications to arrive when they matter most — think onboarding campaigns, recurring anniversary offers, and event/expiration reminders.
A beautifully integrated UI allows you to schedule notifications…
After any notification event (e.g., form submissions, user registrations, payments collected)
On a specific date and time
Before or after a date captured on the form
Need to send a notification more than once? Resend notifications on a recurring schedule forever or ending after a period of time.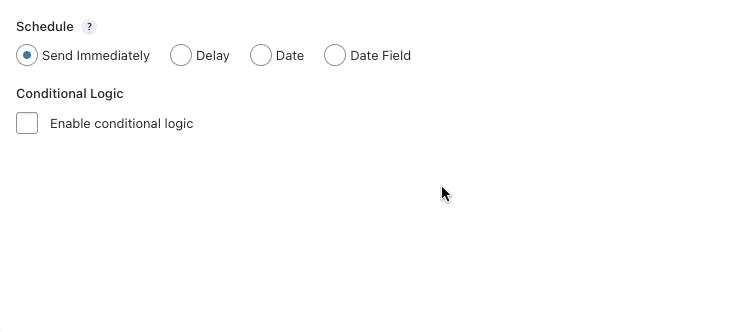 What can Notification Scheduler do for me?
Drip Campaigns — Help new customers learn how to use your product. Build hype for your upcoming event. Nurture fresh leads to keep your brand on their mind. Use Notification Scheduler to send a series of scheduled emails, arriving over the first few days and weeks of their engagement with your business.
Recurring Offers — Engage existing users with regular offers. A birthday coupon for 10% off their next order. A free digital resource on their signup anniversary. An invitation to give you feedback on their experience every 6 months. Just a few ideas to get you started!
Reminders — Keep your event at the forefront of your attendees' minds and improve their experience with helpful tips ahead of the big day. For subscriptions, remind customers about their upcoming renewal or expiration. Same for credit cards!
Other Custom Notifications — Gravity Forms notifications can be heavily customized out-of-the-box, allowing for uploaded attachments sent from forms, the use of conditional logic when sending notifications, and more. If you're new to notifications, we recommend starting here!
Notification Scheduler is the gift that keeps on giving.
Ready to give it a try? 😉
It's available now in your WordPress admin (Forms › Perks › Install Perks in your admin menu). Prefer to download it? Just log in to your Gravity Wiz account and go to your Downloads page.
Want to learn more about Notification Scheduler? We've prepared some excellent documentation here: