Fun fact: Gravity Forms OpenAI was something our CTO, Clay Griffiths started for fun during Christmas holidays. You see, Clay gets curious, and when this happens, nothing can stop his wizardly wrath. As the legend goes, much of the boilerplate code was written with AI.
Fast forward two months, hundreds of downloads and countless eye-opening use cases later, less than a week after our most popular Wizarding Workshop to date, we return with yet another humble offering: Gravity Forms OpenAI Beta 1, our most powerful free release ever.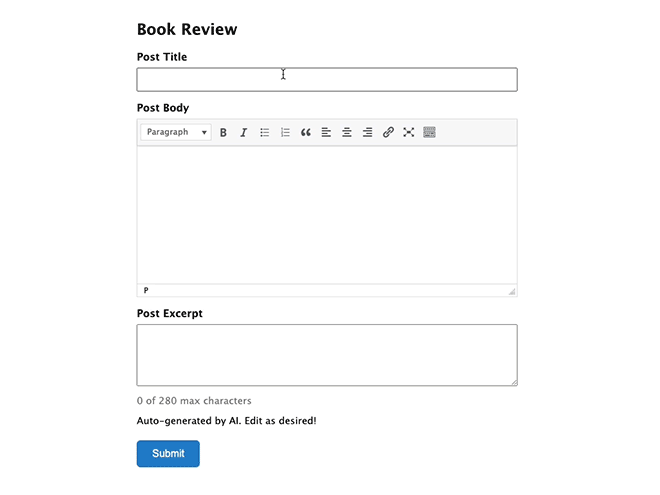 GF OpenAI Beta 1: 10x cheaper and way faster
Until recently, much of the AI-powered web was built on the GPT3 API. Last week, OpenAI released access to the API that fuels ChatGPT, gpt-3.5-turbo.
Turbo is priced at $0.002 per 1000 tokens, ten times less than previous models. That means $1 now gets you 500,000 generated words.
3.5 Turbo is also more intelligent. Logan Greenhaw was one of the first to try our beta and had this to say:
I just switched over. I found that gpt-3.5-turbo was actually faster and produced more accurate responses to the prompt than the model I had fine-tuned.
What else? 3.5 Turbo has a need for speed and you can expect big improvements to response times. It's also far more stable, and no longer trains itself on user input, meaning your data stays with you.
In short, 3.5 Turbo provides the tools you need to confidently scale any (capital I) Intelligent Gravity Forms creation, and it's available now in Beta 1.
Beta 1 integrates with Gravity Flow
Gravity Flow helps you create business processes and control the flow of your entries through those processes. With this integration, you can sprinkle AI magic in at any point in any process.
A quick example:
A user submits a form designed to create an outline for their article.
GF OpenAI Beta 1 handles the outline.
A Gravity Flow approval step requires an editor to approve the outline.
After approval, a rough article draft is generated based on that outline via GF OpenAI.
A Notification step brings users back to review the generated article, make edits, and submit a final version.
Post Creation generates an article and publishes it.
This could happen in minutes.
Here's what that step configuration could look like: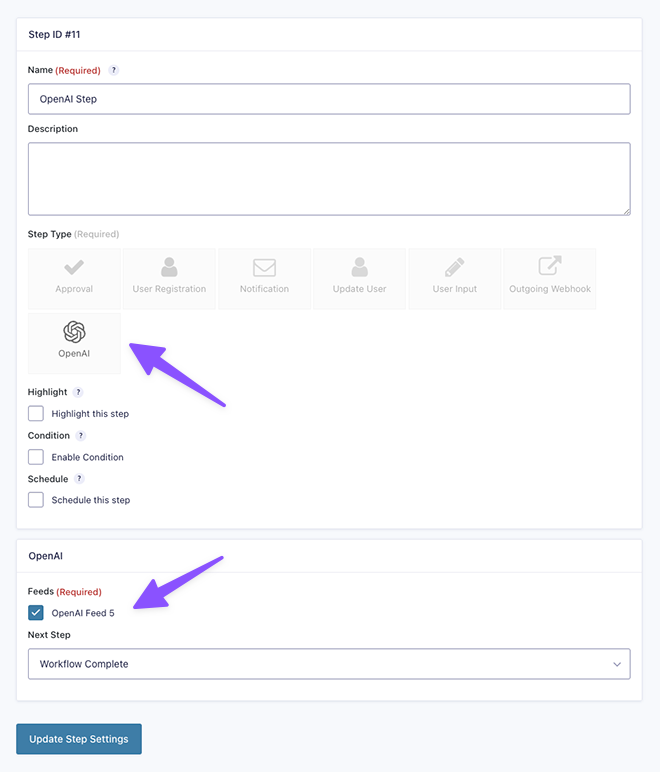 Beta 1 comes with a new formatting modifier
By default, formatting is stripped on GF OpenAI's output. If you want to preserve formatting as it's returned (for example, when using HTML fields), the handy new :nl2br modifier has your back.
Beta 1 includes automatic updates
Because of the unprecedented response our alpha received, auto-updates have become a necessity. 😅 You'll now have access to the latest version right from your WordPress dashboard.
GF OpenAI Beta 1 is free
Our pet project has entered new territory. Affordable, reliable, and turbo-fast AI within any form makes Gravity Forms a formidable contender for creating and scaling your next AI + Gravity Forms powered initiative: whether improving existing internal processes, developing a new product offering, or just creating another badass band name generator. It's your call!
We're excited to see what you build, and please don't hesitate to share with us.
PS — Not sure where to start? We just hosted a live workshop deep-diving Gravity Forms OpenAI use cases, fine-tuning models, and answering common questions — watch the recording!