June 23, 2022: Added support for filtering the forms that display in the "Forms" Admin Bar menu.
Overview
Gravity Forms provides a dashboard widget that gives you quick access to your forms and a helpful overview including the number of unread entries. Nice.
The only downside is that it shows all of your forms. If you have a lot of them, that can be overwhelming. There's a good chance only a handful of those forms actually need daily attention.
This free plugin gives you the ability to specify a list of forms to be included or excluded from the dashboard widget. And it's managed right in the Gravity Forms settings.
Using the Plugin
Confirm that you have Gravity Forms installed and activated and that you've installed the plugin.
Once installed, a new Dashboard Widget settings panel is available in the Gravity Forms Settings page.

Excluding Specific Forms
By default, the settings panel is set to Exclude selected forms. Simply choose the forms you want to exclude from the widget.

Including Specific Forms
If you have a ton of forms, it might be easier to only choose the forms which you want to include in the widget. Switch the Behavior setting to Include, and select your most important forms.

Just a note: If you decide you want to show all forms again, just select "Exclude" from the Behavior and deselect all forms from the Forms setting… or disable the plugin. 😅
That's It
With the forms either excluded or included, you now have a more manageable Gravity Forms widget on your dashboard. Now, go check on those unread entries!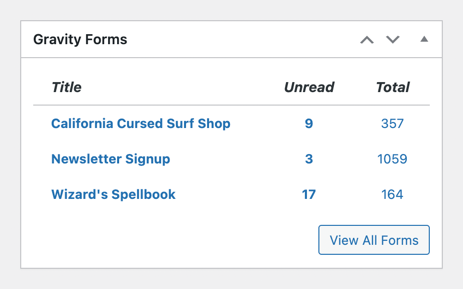 Did this resource help you do something awesome with Gravity Forms?
Then you'll absolutely love Gravity Perks; a suite of 47+ essential add-ons for Gravity Forms with support you can count on.