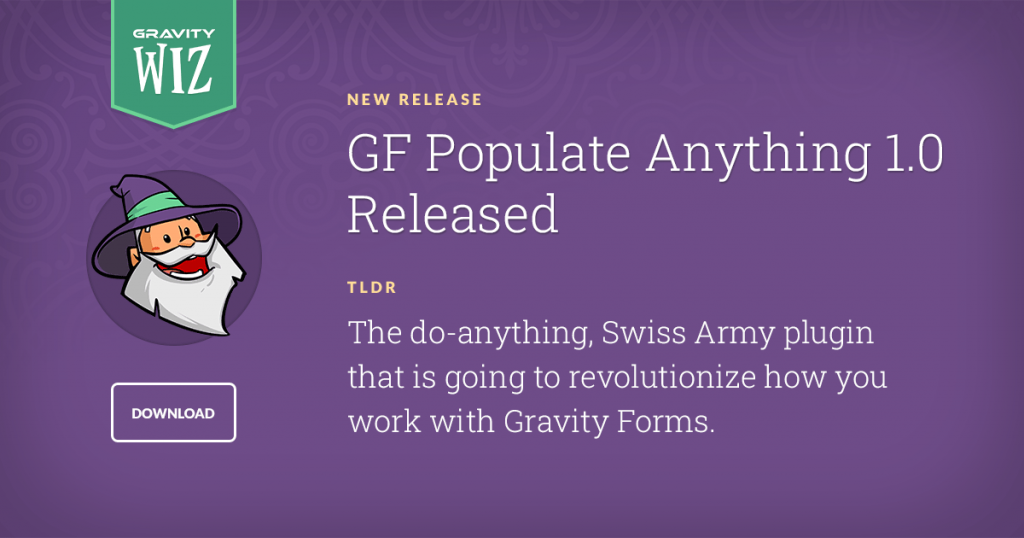 Greetings, wizards!
We have most excellent news. Populate Anything 1.0 has finally arrived!
Populate Anything is the most powerful, versatile data population plugin in the Gravity Forms ecosystem. It's been bridging gaps, connecting dots, and populating just about anything into your Gravity Forms since the public beta dropped back in 2019.
Gravity Perks customers have been able to build fully dynamic forms with less effort and virtually no ongoing maintenance. Dynamic forms don't just help administrators, they empower your end-users to complete forms faster, more accurately, and with confidence.
What does 1.0 mean?
Populate Anything enjoyed a long beta while we collected and implemented more customer feedback than you can shake a wand at.
New Features — This 1.0 represents hundreds of new ways to populate, filter, and order your data into Gravity Forms. We've also made dozens of integration improvements with other perks and 3rd-party plugins like GravityView, Gravity Flow, and WooCommerce.
Performance — Populate Anything does some serious work and we're incredibly proud of how performantly it handles the load. With request consolidation, advanced runtime caching, and object-type-specific tweaks, your data will load quickly and efficiently.
Stability — We've fixed hundreds of bugs and developed a comprehensive suite of automated end-to-end tests that run through real-world use-cases. With over 72 tests and counting, Populate Anything is more stable than ever.
What can Populate Anything do for you?
It's the do-anything, Swiss Army plugin that will revolutionize how you work with Gravity Forms. With Populate Anything you can…
Spend less time building and updating forms.
Dynamic population lets you spend less time building and maintaining your forms.
Jim runs a dealership and he wants to collect customer feedback on his sales associates. Customers need to be able to select the associate that assisted them on the form. Rather than manually entering each sales associate into his Drop Down field, Jim can use Populate Anything to populate each of his site's WordPress users with the "Sales Associate" role.
Best part? When Jim adds a new sales associate to his site in the future, Populate Anything will automatically include them in the field. No need to manually update the form. Nothing slips through the cracks. Learn more about dynamically populating choices.
Eating our own dog food — We use this same technique on our support form to let customers select which perk they're submitting a request for. Whenever we add a new perk (powered by a custom post type), that perk automatically appears in the Drop Down. That's one less thing we have to remember for each new perk!
Empower your users to find what they need.
Populate Anything empowers you to empower your end-users. Create forms that let your users search data on your site and return useful information.
WooCommerce Orders — Jane is running a WooCommerce shop and wants to let users request a refund, report an issue, or check on their shipping status. Gravity Forms + Populate Anything can be used to create a form for each scenario. Populate a Drop Down field with a list of the current user's previous orders or look up an order by the confirmation number and billing zip code. Learn more about populating WooCommerce order data.
Gravity Forms Entries — Roger is using Gravity Forms to collect adoption applications for his local animal shelter. With Populate Anything, he can provide an application status form where hopeful adopters can enter their confirmation number and check on the status of their application. Learn more about populating data from Gravity Forms entries.
This is just a taste of what is possible. Populate Anything can search, filter, and populate any data in your WordPress database.
Improve the user experience with personalization.
Personalize, inform, and confirm by including details from your customer's current submission in subsequent questions as they progress through the form.
Hermione Granger is creating a form to sell potions. She starts by collecting the customer's name and then each question incorporates answers from the previous questions to tailor the experience to the current customer and query. Here are her form field labels where the text in bold has been dynamically updated based on responses to previous questions.
With whom do I have the pleasure of assisting today?
Greetings, Ron! What kind of potion are you looking for?
We have an assortment of potent Love Potions. How long would you like the effect to last?
You're looking for a Love Potion that will last forever. There will be some permanent side effects. Would you like to continue?
All this is powered by Live Merge Tags, one of Populate Anything's flagship features. Use Live Merge Tags anywhere in your form (e.g. labels, descriptions, choices, values, HTML fields).
The Swiss Army Plugin
Populate Anything is the do-anything, Swiss Army plugin that is going to revolutionize how you work with Gravity Forms. Save administrative time, empower end-users, and personalize customer experiences.