Fun fact: QR codes have been around for nearly 30 years.
It wasn't until the pandemic that we saw them blow up. And yes, you've probably seen hundreds by now. But I mean, think about it. Scan one image to instantly check yourself in, apply a discount, pull up a menu, or populate a Gravity Forms field out of thin air? It's amazing. And kind of feels like…
…
Don't say it.
…
…magic?
Haha, sorry, I just couldn't resist. 😅
Gravity Forms QR Code 1.0 is here!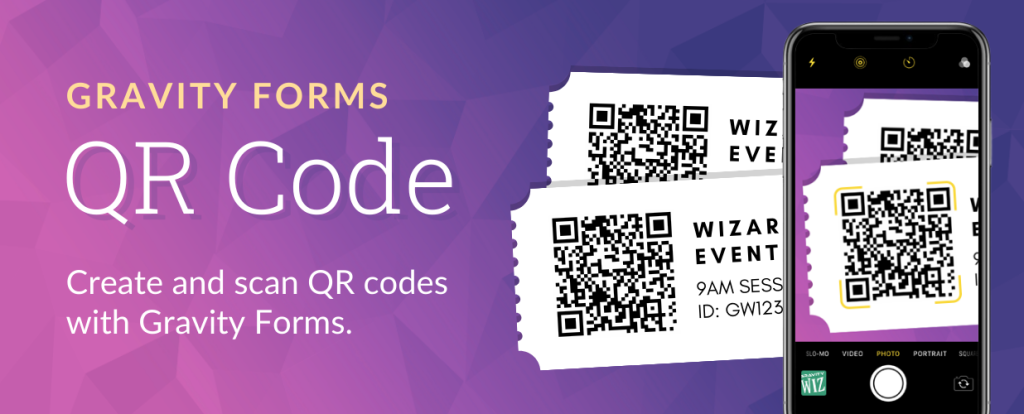 This past summer, (winter for you folks in the southern hemisphere) we introduced you to Gravity Forms QR Code, our own portal between the physical and digital world. 
QR Code provides an easy means for generating QR codes from Gravity Forms fields, and scanning QR codes to insert values into fields. Turn any Gravity Forms field into a scannable code — and output QR codes in confirmations, notifications, or anywhere else merge tags are supported.
Today, QR Code gets its 1.0 credentials.
What does 1.0 mean?
We've been optimizing the QR codex around use cases like event check-in, inventory management, coupon codes, connecting different devices, and member registration. We added 30 new barcode formats, and more customizability for your formats of choice (check out an interactive demo).
1.0 means our consistent QR QA has paid off. GP QR Code is more stable and reliable than ever before.
What can you do with QR Code?
Here are some common applications:
Sell tickets to events, check-in attendees. Generate QR codes for each ticket, and add them to confirmations. Staff can scan QR codes into a check-in form as attendees arrive.
Generate scannable coupon codes and discount links. Allow customers to scan QR codes at checkout and automatically apply a coupon — or scan a QR code that takes customers to a special checkout link with a discount already applied.
Simplify inventory management. Create QR codes for product SKUs. Staff can scan a QR code to interact with that product on their product management form. Quickly handle returns, surplus inventory, product recalls, or restock requests.
Ready to explore the QR codex?
QR Code 1.0 is available in your WordPress admin (via the Perks page) or by download in your Gravity Wiz account.
Haven't tried Gravity Perks yet?