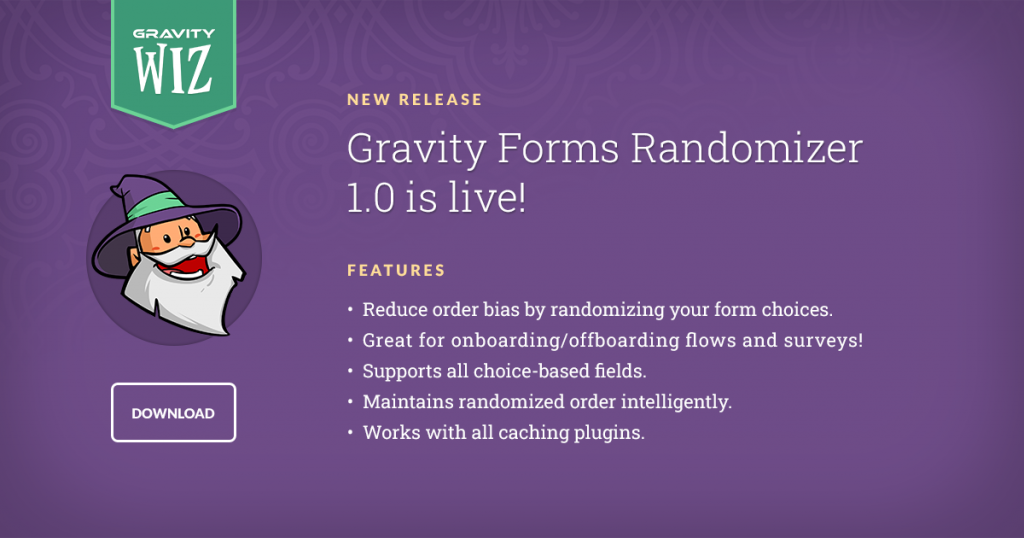 We have a random surprise for you today! We'd like to introduce our newest perk, Gravity Forms Randomizer, available for immediate download in your Gravity Perks dashboard.
Use this delightfully simple perk to reduce order bias in your Gravity Forms by randomly reordering your form's choices each time the form is displayed.
What's order bias? It's the tendency of humans to respond inaccurately to questions due to the order of the answers. Depending on the type of question, sometimes the first choice is favored, sometimes the last. When you need accurate responses, GF Randomizer can help!
Here's a few highlights!
Supports all choice-based fields.
This includes Surveys, Drop Downs, Multi Select, Radio, Checkboxes, Products, Options, and more!
Maintains randomized order intelligently.
Visitors will never be frustrated by the randomization because the choice order is saved and reused once the user has begun completing the form. Navigating multi-page forms and validation errors will present a consistent experience.
Works with caching.
Caching your form pages? No worries! GF Randomizer will still randomize the choice order.
And don't forget access to our absolutely legendary support. 🧙🏻‍♂️
When we first launched Gravity Perks, our focus was on simple features that solved real-world problems elegantly. Since then the complexity and power of our perks have grown tremendously but we're eager to keep adding simple, helpful perks to our Gravity Perks suite as well.
GF Randomizer fits that bill perfectly. It does one thing. It does it exceptionally well. And we know you're going to love it!