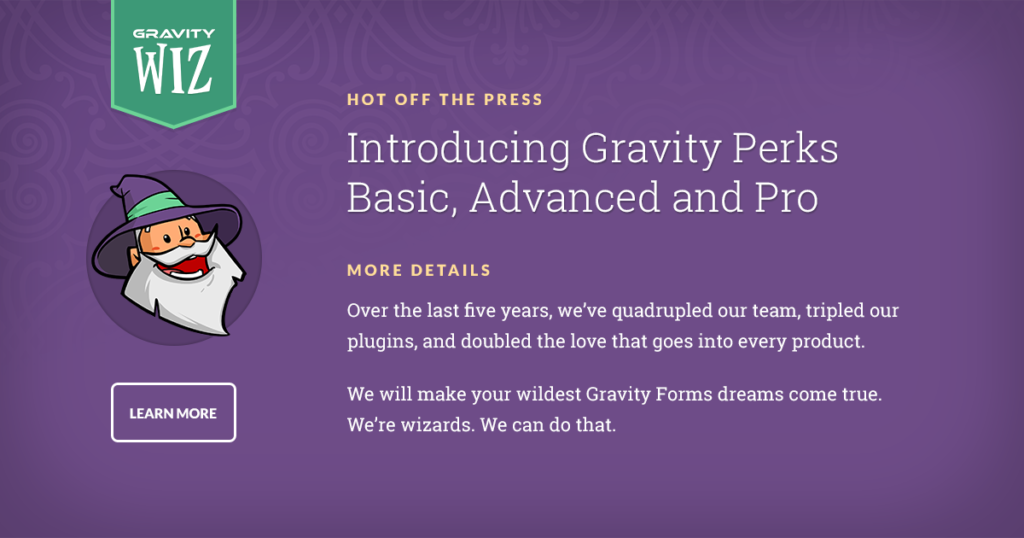 Way, way back in 2013, I launched Gravity Perks as a solo developer with 9 small, single-purpose perks. That was the original vision: create small, single-purpose plugins for Gravity Forms pillared by reliable support and good documentation.
In the intervening years, Gravity Perks has flourished well beyond this original vision. The team has expanded from one to four. The suite of perks has more than tripled! And many perks have matured from single-purpose plugins to robust, feature-rich add-ons.
We've come a long way!
New Pricing Tiers
Now, we're looking to the future. We are pleased to introduce our new pricing tiers.
Gravity Perks Basic — $49/year

Basic gives you to access to any single perk on any single site. Just need that one missing feature to finish your form? This is the license for you.

Gravity Perks Advanced — $129/year

Advanced gives you access to three (3) perks on up to three (3) sites. It also includes support for our published snippets and tutorials (there are hundreds!).
Check out our FAQ for more details.
What about the Single Site and Unlimited license?
These license types are no longer available. If you're already the proud owner of a Single Site or Unlimited license, your current license will be grandfathered for this change.