There are plenty of reasons why you might need to add forms to your website. Whether you're a business owner, consultant, blogger, or run an online store, you'll need an advanced form builder to create some sort of a form.
For example, most online business owners have a simple contact form that allows prospective clients to get in touch with them. Blogs and online magazines have user registration forms that help generate leads. Online store owners create ordering forms that make it easier for customers to place their orders.
Gravity Forms and Ninja Forms are two of the most popular WordPress form builders out there. Both offer advanced features (such as the option to create multi-step forms), a variety of form field types, and the option to integrate with third-party plugins.
In this article, we'll compare the key features on offer with Gravity Forms vs Ninja Forms to help you decide which form builder plugin is right for you.
Gravity Forms vs Ninja Forms: Feature Comparison
When deciding between Gravity Forms vs Ninja Forms, one of the most important factors to take into account is the core features on offer with each form builder. Both offer far more complex functionality than simple contact form plugins, so it's also important to consider the different integrations each solution offers.
Here, we'll compare the different functionalities of Gravity Forms and Ninja Forms:
Form Types
Both Gravity Forms and Ninja forms allow you to create different types of advanced forms for your website. These include protected forms, multi-page forms, contact forms, polls, and forms for accepting user-submitted posts and other content through your WordPress website's front-end. One of the standout features on offer with Ninja Forms is scheduled forms. However, Ninja Forms only allows scheduled forms for a set period.
Both Gravity Forms and Ninja Forms allow you to sell products and collect payments directly through the form. However, Gravity Forms has a clear advantage due to its integration with Gravity Perks.
You can use Gravity Perks to create great-looking and easy-to-navigate Gravity Forms with advanced features. Here's how: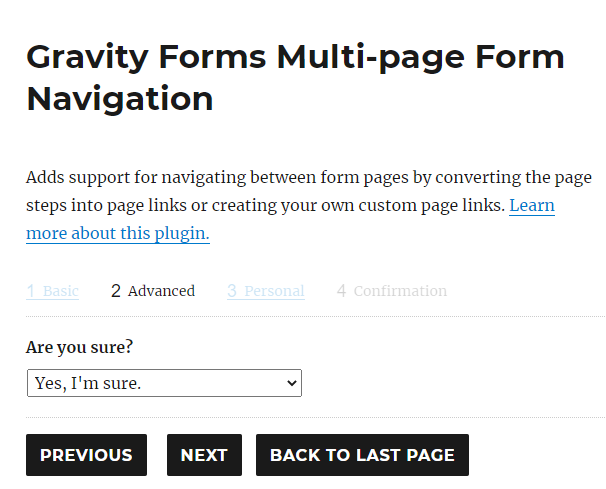 Form Entry Handling
Gravity Forms and Ninja Forms both let you create an unlimited number of forms with unlimited submissions for each form. Form submissions can be stored in the WordPress database, accessed through the WordPress admin dashboard, or sent out to specified email addresses. In addition to this, both Gravity Forms and Ninja Forms let you export entries in different formats, including CSV, PDF, and Excel.
Gravity Forms, however, has better support for pre-populated forms and form fields. Plus, you can pair it up with the GF Populate Anything perk to dynamically populate field choices and values with posts, taxonomies, users, terms, Gravity Forms entries, and databases.
You can use Gravity Perks with Gravity Forms to further enhance the form entry handing options available to you. For example, you can use:
GF eCommerce Fields to make your Gravity Forms form more eCommerce-friendly by adding tax, discount, and subtotal fields.
GF Word Count to limit the number of words that can be submitted in different free text fields.
GF Limit Submissions to limit the number of entries submitted by a user, user role, or IP.
Form Field Types
Depending on the type of form(s) you need to create, you'll likely need to use a combination of standard and advanced fields. For example, most forms have a first name, last name, email, and date field. Others have more advanced form fields such as file upload, dropdowns, pricing, and payment options.
Both Gravity Forms and Ninja Forms allow you to create forms with standard and advanced fields. In addition to this, you can also apply conditional logic rules to the form fields.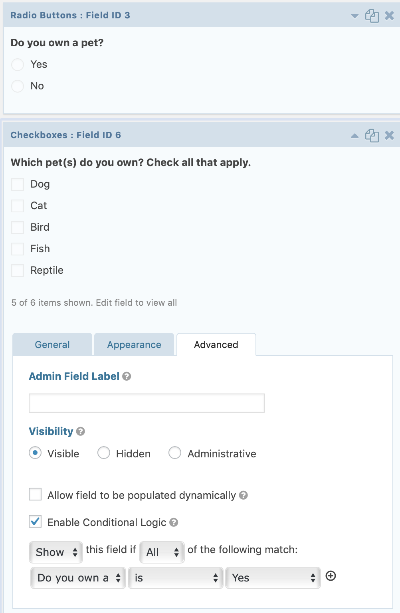 Gravity Forms conditional logic in action
With Ninja Forms, however, it's important to always check to see if the form fields work as intended. For example, the address form field is a simple, single-line text field type in Ninja Forms. If you wanted people to select a State and enter a zip code, you'd have to create separate fields. On the flip side, Gravity Forms makes it easy to switch the address field to an international format; Ninja Forms doesn't give users a quick way to change the address format.
You can use add-ons with Gravity Forms to apply conditional logic rules to different form field types:
Integrations
Both Gravity Forms and Ninja Forms integrate seamlessly with popular email marketing services (like Mailchimp, Constant Contact, and AWeber), payment gateways (like PayPal), email notification services, eCommerce tools, CRMs, and much more. Gravity Forms integrates with far more tools out of the box than Ninja Forms. So, if you're looking to pair your form builder up with different tools, Gravity Forms is your best bet.
Gravity Forms and Ninja Forms both support reCAPTCHA v2 and Akismet Anti-Spam to provide security against spam entries. Gravity Forms additionally allows you to drag a specific "Captcha" field into your workflow as part of the form-building process, streamlining form security.
Gravity Forms allows integration with Gravity Perks add-ons which opens up many possibilities. You can enhance your Gravity Forms spam protection using different perks:
GF Blacklist allows you to quickly validate fields against a blacklist to prevent form submissions that include blacklisted words.
GF Disable Entry Creation lets you automatically delete a Gravity Forms entry (and any associated files) after the form is submitted.
You can also integrate Gravity Forms with the best WordPress online store plugin, WooCommerce, in a variety of powerful and user-friendly ways- check out our handy guide here!
User Interface
Gravity Forms uses the WordPress user interface (UI) styling on the back-end, whereas Ninja Forms has its own custom interface. This makes them both intuitive and easy-to-use for anyone who's familiar with WordPress.
In terms of ease of use, Gravity Forms and Ninja Forms both have similar interfaces for building forms. You get a drag-and-drop form builder for organizing form fields and configuring what happens when a user submits a form.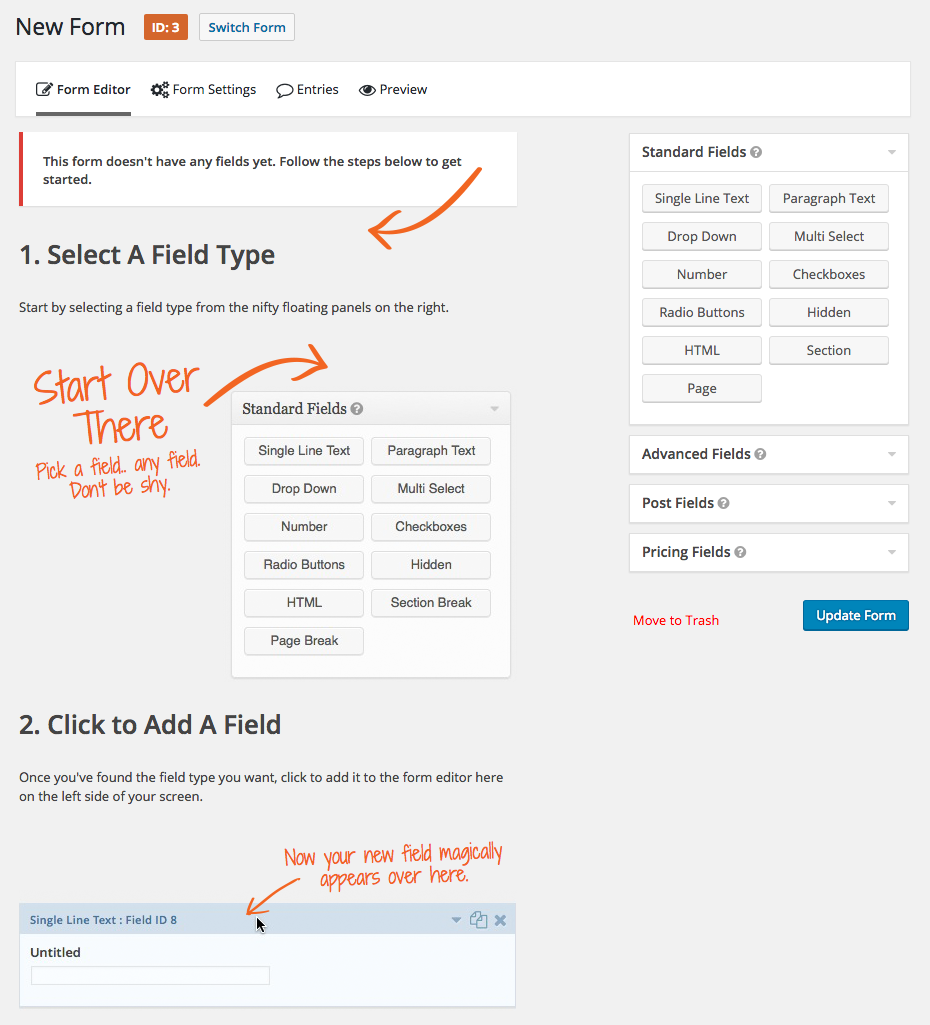 The Gravity Forms form builder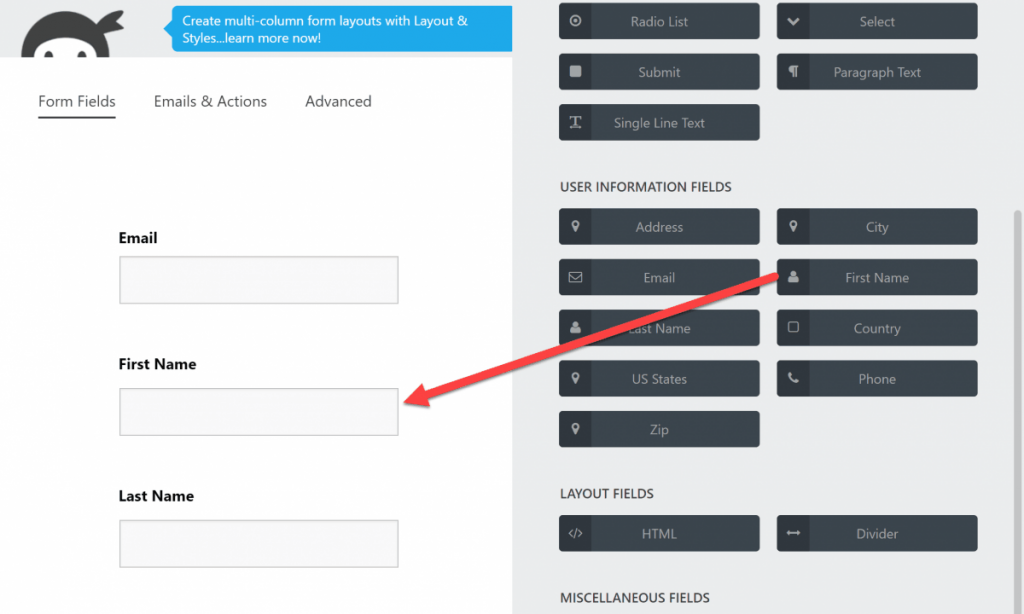 The Ninja Forms form builder
Ninja Forms also comes with a range of pre-built form templates to get you started each time you create a new form.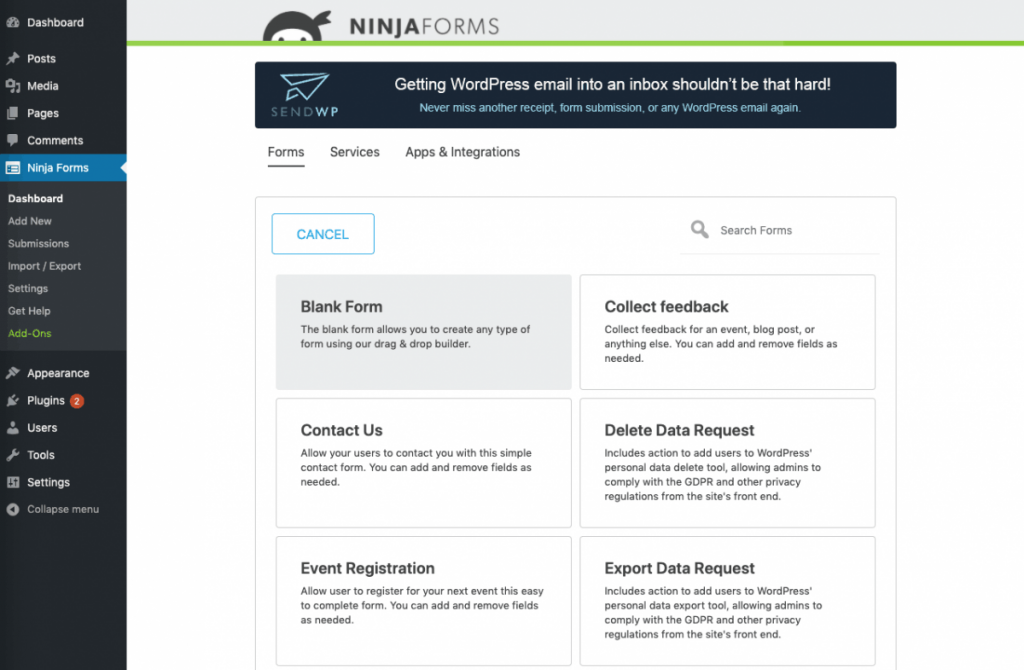 In addition to this, both offer fully-functional form previews. This is a great way to quickly test out your form's functionality before publishing.
What's more, is that you can insert forms in pages and posts using shortcodes or by adding them directly to your theme files using the corresponding template code. However, to change the field layout in Ninja Forms, you'll either need to write your own CSS code or pay for a $49 add-on; furthermore, most customization options are locked out unless you enable "Dev mode" in the Ninja Forms plugin settings.
Gravity Forms 2.5 lets you edit the layout out of the box whereas Gravity Forms versions before 2.5 offer ready classes for modifying the layout.
Gravity Forms vs Ninja Forms: Plans and Pricing
Cost is a huge factor when deciding between Gravity Forms vs Ninja Forms.
You can install the free version of Ninja Forms on your WordPress site and start creating forms. However, you will need to purchase paid extensions to create advanced forms.
Ninja Forms has a complicated pricing model beyond the free plan. You can pay for each add-on annually (in up to three different pricing tiers for each add-on) or by annual membership. If you need only one add-on, it's probably best to pay for it individually. However, if you need several add-ons, it's difficult to decide which pricing plan offers the best value for your money.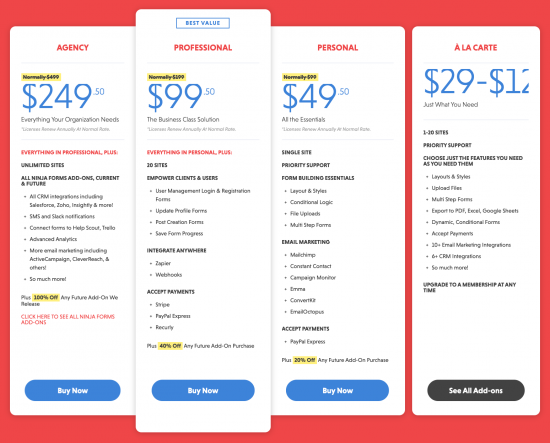 Advanced features such as conditional logic, file uploads, and multi-page forms are considered premium add-ons, and you have to pay for them individually. Put simply, if you want more than two add-ons for your website, the premium version of Ninja Forms becomes very expensive.
It's also worth mentioning that Ninja Forms requires a more thorough knowledge of design to get the best results out of your forms.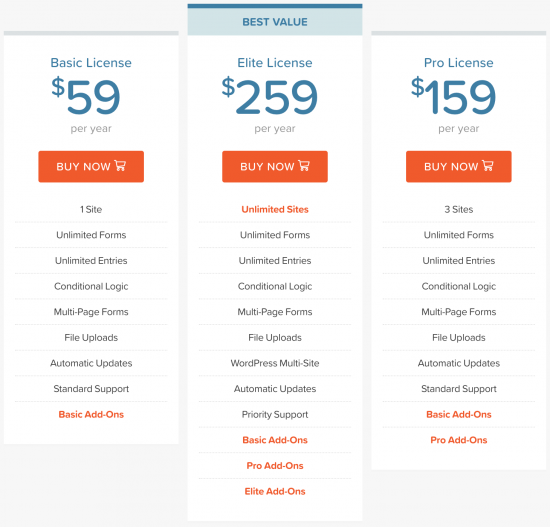 On the flip side, Gravity Forms pricing plans are pretty straightforward:
Personal $59 offers a single site license with unlimited forms, all form fields, and most mailing list add-ons
Pro $159 offers three site licenses, integration with tools like Zapier, Slack, and FreshBooks
Elite $259 offers unlimited site licenses, Stripe payment fields, polls, user registration forms, and survey tools
In addition to this, you can pair Gravity Forms up with Gravity Perks to enhance your form's functionality in a variety of different ways. In this way, you get even more value out of the form builder.
Gravity Forms vs Ninja Forms: Which One Is Right for You
With Gravity Forms core, you get a whole lot more than with Ninja Forms core. At the end of the day, the form builder you decide to go with depends on the type of project you're working on and what add-ons are available to facilitate it.
If you'll need access to advanced features, then Gravity Forms is the way to go. The WordPress form plugin offers access to tons of features out of the box, gives you the option to integrate with a variety of different tools, and works seamlessly with Gravity Perks.
However, if you're looking for a simple form builder with basic features and premium customer support, then Ninja Forms is worth a shot. The free plugin is great for creating basic forms. Ninja Forms also has an excellent database of tutorials and documentation, which is great for DIY users.
Integrate Gravity Forms with OpenAI
. We provide a free plugin that lets you communicate with OpenAI models like GPT3 through Gravity Forms. Customize output with optional conditional logic, PHP filtering, and model fine-tuning.
Conclusion
In terms of features and functionality, it's a close tie between Gravity Forms and Ninja Forms. Both form builders have an intuitive user interface and offer similar form types, field types, and entry handling options.
However, Gravity Forms has been around longer and offers premium customer support. It's the go-to WordPress form plugin. In addition to this, it offers tons of advanced features as standard, including form analytics, front-end posting, and limiting form entries. Gravity Forms also has better anti-spam features when paired up with perks like GF Blacklist and is much more customizable than Ninja Forms.
Gravity Forms has been around for over a decade and has been committed to backward-compatibility since day one. If you need reliability, then Gravity Forms is the better option. It's the most secure form builder out there, and it undergoes regular security audits and security enhancements. In addition, Gravity Forms 2.5 is the most accessible form builder, so if that's important to you, then Gravity Forms is the right choice.
Get Gravity Perks to enhance your Gravity Forms today.
Did this resource help you do something awesome with Gravity Forms?
Then you'll absolutely love Gravity Perks; a suite of 47+ essential add-ons for Gravity Forms with support you can count on.