Greetings, wizards. 🙂
BIG NEWS! We're in the Gravity Forms Add-on Browser!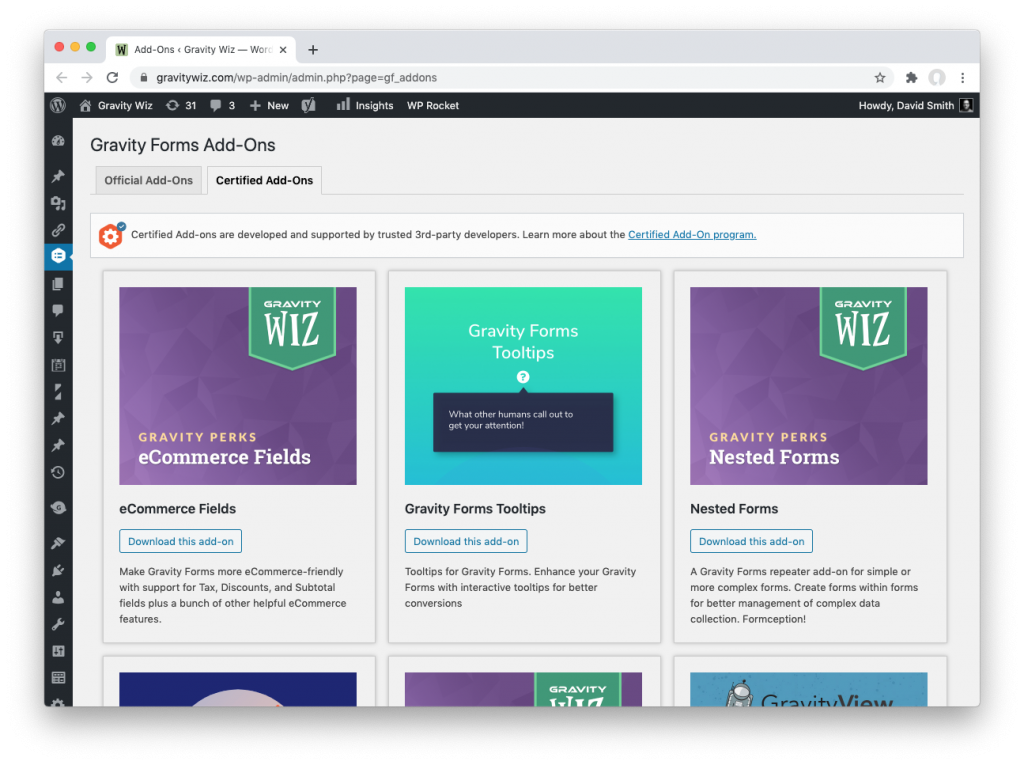 We're proud to be partnered with Gravity Forms in the Certified Add-on program. Go to Forms › Add-Ons in your WordPress admin menu to see all the Official and Certified Add-Ons available.
Read on for your regularly scheduled updates. Lots of updates to our free resources this week. 💸
Resources
How to Populate and Modify Dates with Gravity Forms
We used to only offer the advanced version of this snippet to Gravity Perks license holders. Now we've migrated the advanced version to our Snippet Library and made it free for everyone! Populate and modify dates on when the form loads or live based on your users' responses. 🗓
Customizing Gravity Forms User Registration Activation Page
Our free template for customizing the User Registration activation page has been updated to support Gravity Forms User Registration 4.6. 🙎‍♂️🙍‍♀️
Creating Coupons for GF Coupons Add-on with Gravity Forms
We've migrated our free coupon-generation snippet to the Snippet Library. Create coupons for Gravity Forms, WooCommerce, or Easy Digital Downloads whenever a Gravity Form is submitted. 💯
Gravity Perks
GP Copy Cat (v1.4.28)
Added gpcc-populated-input and gpcc-populated to mark populated inputs and their parent field container respectively.
Fixed an issue where the new gpcc-populated classes may apply on page load.
GP Email Users (v1.0-beta-2.0)
Added XHR retry mechanism and error messages for server errors.
Added gpeu_connection_threshold to limit the number of concurrent AJAX calls.
Updated plugin author.
GP Live Preview (v1.5)
Added full support for Gravity Forms with improved UI.
Improved Live Preview with full compatibility for Gravity Forms 2.5.
Updated CSS for hidden fields in Gravity Forms 2.5
Updated and improved to work well in Gravity Forms 2.5; Live Preview is now an option on the default Preview menu.
Fixed issue where admin script was not output when No Conflict Mode was enabled.
Fixed issue where tooltips displayed underneath the form editor toolbar. Fixes #5.
Removed tags in selectors.
GP Nested Forms (v1.0-beta-8.73)
Added gpnf_post_duplicate_entry filter to allow doing something after a child entry has been duplicated on the frontend.
Fixed an integration issue where WooCommerce Gravity Forms Plugin would hide the submit button.
Fixed a compatibility issue with Gravity Flow and Date fields.
Fixed issue where duplicating a child entry created two duplicates instead of the expected one.
Fixed an issue in IE11 where GPNF would scroll to the top after editing an entry.
GP Populate Anything (v1.0-beta-4.112)
Fixed a regression that caused ordering by meta fields to fail.
Fixed close button in the input with custom component, improved layout of filters/filter groups, updated icons, and updated styling for results preview.
Fixed potential JavaScript error on the frontend when using date fields with non-US formats.
Fixed an issue where LMTs would not populate if the source field has a calculation that runs on page load.
Fixed issue with time fields not being dynamically populated when using Gravity Forms 2.5 or newer.
Fixed an issue where a conditional paragraph field may not show LMTs correctly.
Fixed an issue where GPPA may generate notices if the filter value is empty.
Fixed an issue where a conditionally shown field with LMT may not retain its value after being hidden.