Greetings, wizards!
We've got another epic week of wizardry to share with you. I'm particularly excited to reveal our new, free Google Sheets integration for Populate Anything.
I think you'll really enjoy this week's customer spotlight too! Certified Wizard Lena Shore shares how she's using Populate Anything to save "TONS of time" with the power of dynamic population.
Of course, we'll also be sharing a few of this week's most useful resources and a fresh batch of updates for Gravity Perks.
Spellbooks ready?
Populate Gravity Forms with Google Sheets
Populate Anything is the Gravity Forms plugin that lets you enrich your form choices and/or values with any data source you can imagine.
This includes summoning dynamic data in real time. Your form has the power to evolve, shape-shift and pull new field choices and values as users add input.
We've taken this a step further with some Google Sheets alchemy. Now, users can populate a Gravity Form field choice or value with any data captured in Google Sheets. Think of the possibilities!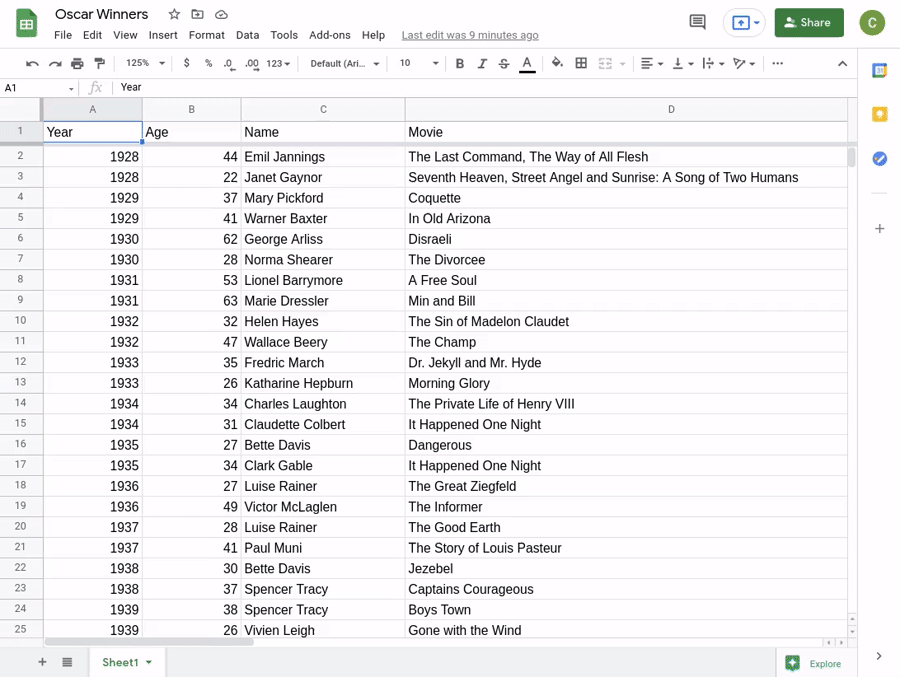 Capture dynamic Google Sheets data in your Gravity Forms.
For example:
Updates to your daily food menu
Changes to product inventory
Managing descriptions of products and services
Anything involving the built in algorithmic magic within Google Sheets
Wizard of the Week
Picture yourself – a web development pro – managing everything design, development, and logistics related for 5+ webinars at a time for a client.
For each webinar, you could:
Create separate landing pages
Create separate forms for each landing page
Create separate notification systems for webinar registrants with their personal details
Create separate systems for backend registration tracking
Or you could create one template to automate the entire process.
Meet Lena Shore, Gravity Perks user, web developer, graphic designer, and all-round certified wizard.
Lena's template uses a combination of spells. Gravity Forms Populate Anything ties it all together with magnetic power.
With a few clicks, the template handles everything – front end and back end.
Lena creates a new webinar via a Custom Post Type
Each webinar gets displayed in her master template
The template includes the same sign-up form for each webinar
The form gets dynamically populated with webinar specifics via Populate Anything
Registrants get emailed with details specific to their class
Lena's client gets notified of all webinar registration details
Lena can reuse this template endlessly.
She visualized the process for us: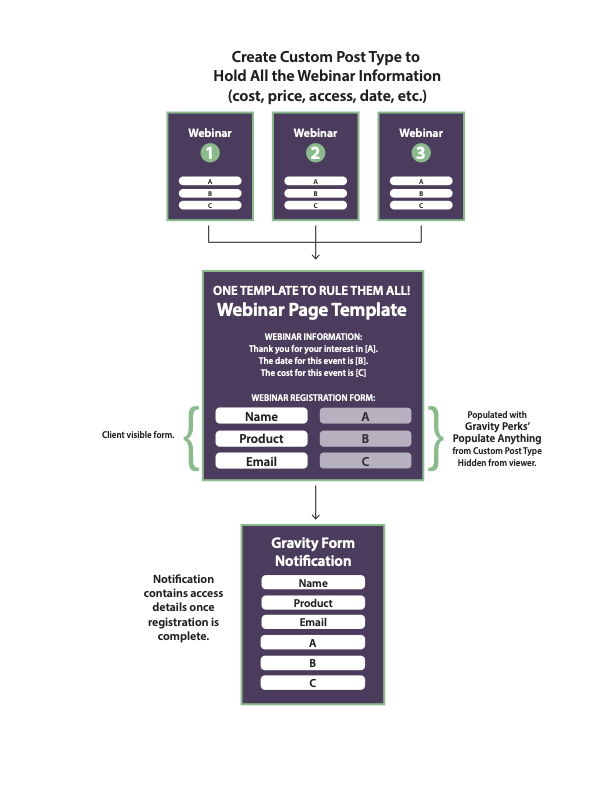 From Lena:
"This will save me TONS of time. On [my client's] old site, I created a separate page for each webinar (no template) and a separate form for each of those. Each had its own access link, price, and thank you page. Now, I just create "new webinar" and fill in the unique parts (name, price, access link, date) and the rest is automatically taken care of.
The client will be happier too, as it will now only take a few minutes. It's so simple now, she could do it herself."
Incredible. Lena has saved herself, and her client, an unbelievable amount of time. So much so, she may be out of a job! Only jokes. We salute you, Lena Shore.
Gravity Wiz Weekly Newsletter
Don't miss a thing. Get our weekly updates by owl or email. Ok, we're still working on the owl service, so just email for now.
Resources
Populate Dates and Times | Modify Times – This snippet provides the ability to populate date fields with a modified value based on the current date, or a user submitted date. This week, we added support for doing the same thing with time fields.
Example: Automatically calculate a return time of power tool rentals from a hardware store.
Aggregate Functions for Populate Anything | Currency Calculations – In combination with Populate Anything, this snippet adds functions for getting the sum, min, max, or an average of a set of populated results. This week we added support for applying any of these functions to currency-based fields.
For example, calculate your largest donation and encourage patrons to surpass it.
Read Only | Support for Dynamically Populated Fields – Read only allows you to configure form fields to be set to a read only state so that they become visible, but not editable. But what if you want to enable read only on only fields that are dynamically populated? Look no further than this new snippet.
Gravity Perks
GP Date Time Calculator (v1.0-beta-4.8)
Fixed a potential issue where calculations on multiple fields using the same inputs may only trigger on the last field.
Fixed a performance issue with GPDTC and large forms with multiple calculations.
GP File Upload Pro (v1.1.6)
Fixed an issue where disabling cropping on a field after requiring it may cause GPFUP to freeze.
GP Inventory (v1.0-beta-1.1)
Added filters to support weighted inventory.
Improved compatibility with GravityView Edit views.
Fixed issue where inventory was not correctly calculated when sharing a choice-based resource with multiple quantity fields in the same form.
Fixed issue where Inventory Limits on fields using Scoped Inventory would be disabled in the Form Editor.
Fixed possible PHP warning when using the Advanced Inventory Type with multiple fields using the same Resource.
GP Media Library (v1.2.20)
Added support for setting File Upload Custom Fields as featured images. (#8)
GP Multi-Page Navigation (v1.1.4)
Fixed a fatal error introduced in 1.1.3.
GP Populate Anything (v1.0.15)
Fixed a potential issue where caching resulted in stale results when multiple fields are populated via GPPA and depend on previous query results.
Alright, wizards. Until next week. 🧙🏻‍♂️