A Wizard's Note
Nick Heurter of Maatwerk Online, a Rotterdam-based full-service marketing agency, has been a Pro customer for some time. Despite him providing a generously detailed explanation of how the following use case works, and even after bearing witness to its glory ourselves, a word of warning: we still think there may be some magic involved.
Below, we'll dig into how you can set up a customer portal that doubles as a personalized reporting experience for clients and a collaboration tool to streamline communication between team members. And there's so much more to it.
We'll try our best to avoid on-brand magical portal metaphors for this one. 🧙‍♂️
A magical portal has been opened!
As a full-service agency, Maatwerk Online combines reporting from multiple specialists (and services) at a time for clients to provide a cohesive view of how they've improved their client's business. This might include SEO, PPC advertising, web design, and other services in a single snapshot. They needed a way to streamline collaboration on client reports and wanted to add a personal touch to their customer reporting experience.
So, they built a customer portal from scratch using Gravity Forms and Gravity Perks. 🤯
Here's what Maatwerk Online's customer portal allows for:
Agency employees (in separate divisions) automatically get notified when it's reporting time once the project manager opens a report, and can simultaneously collaborate on the same report for a client using this system.
All information submitted by each specialist within the agency gets added to one report within the customer portal, which a project manager can approve and submit.
Once sent, agency customers get a notification about a new report and can log in and interact with their own information, historical reports, and their latest report.
Beats an email chain, doesn't it?
Nick Heurter of Maatwerk Online was more than generous in breaking down every element of this work of art.
As an online marketing agency, we report all our results to our clients. We strive to do this on a personal level, so it's important for us that our specialists give color to the data results for our clients. We try to combine automation with a personal touch to give our clients an update about their results and the work we did, and the plans and strategies we have for the future. For this purpose, we created a Client Portal on which users can log in to see all their information and earlier received reports. Our colleagues at Maatwerk Online use a Gravity Form to send their reports to their client.
The setup is impressive. An example of the reporting flow:
Maatwerk Online's project manager starts the report for a client in the client portal and sets a date for when they would like to receive reporting from each specialist (Maatwerk Online also wanted to limit when reports ought to be sent, i.e., not in the past and within two months of the current date. Therefore, they restrict selectable dates within the client form using Gravity Forms Limit Dates).
They save this report for later submission (via Gravity Forms Save & Continue).
Each specialist receives a notification that a new report has been opened, requesting their own submission.
Each specialist can submit their client report.
When each has been completed, the project manager receives a notification that the report is ready for review.
The project manager adds their own summary conclusion of each specialist's report, and the specialist will see this and simply approve it with a checkbox if they agree, or add more comments.
Once it's gone through the internal rounds, the project manager can approve and submit it to a client.
Okay, let us catch our breath.
Here's a look behind the perks.
Firstly, we Populate Anything and everything.
Within the client portal, there's a Custom Post Type called Clients. This pulls information from Maatwerk Online's CRM.
As soon as the project manager selects a client (i.e., a Custom Post Type) within the portal, Gravity Forms Populate Anything goes to work. It automatically fills in historical details about the client, which project manager they work with, which specialists are involved on a project, and any purchased services. All these details make it easy for team members to get context at a glance.
The awesome support from you guys helped us convert the output of Populate Anything, so that we receive not only the ID of a user, but also their name, their job title, and their avatar.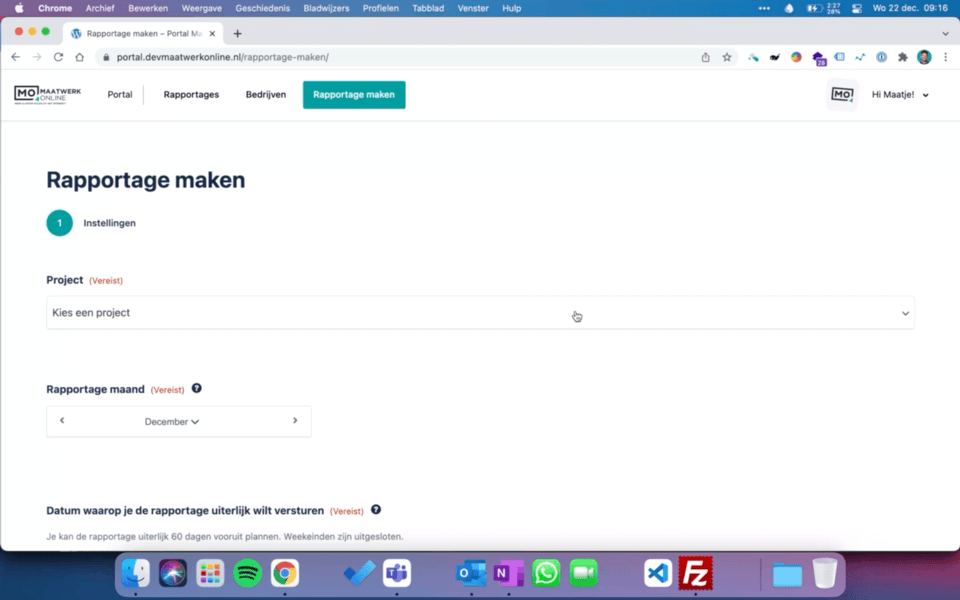 Limiting Word Count, Sort Of
Once the report has been set up and sent off by the project manager, each specialist gets to work filling out the details for their report, whether that's SEO, paid advertising, or web design. Of course, project managers want their colleagues to get to the point quickly — so PMs utilize Gravity Forms Word Count as a means of keeping summaries within 250 words. But not exactly.
By default, the Gravity Perks Word Count plugin validates the form field based on the given Word Count. But we didn't want the form to [become] invalid if a specialist exceeds that amount of words. We only wanted them to take notice. So, the awesome support guys from Gravity Perks (again) helped us with this, by creating a snippet which changes the validation text, but also makes it still possible to submit the form, even though the Word Count is exceeded.
Congratulations, you've received your first report!
If it's the first time a report is being created for a client, Maatwerk Online wanted to note this so they can welcome the clients when they sign on to the portal for the first time and provide onboarding materials.
Nick uses the snippet How to Update Posts with Gravity Forms to update meta information within that client's profile in the customer portal, so the first time a client signs in, they see a welcome message saying something like, "Congratulations — here's your first report and some additional resources to get started!"
Gravity Forms Copy Cat: "It's unmissable for us."
It was crucial for Nick to have the ability to automatically copy information from one field to another so his team could save time.
Maatwerk Online uses a field for a summary conclusion of each specialist's report. After each specialist has submitted their report, the project manager will get notified and add their summary conclusion — that is, the project manager's attempt at concluding the specialist's report. If the corresponding specialist agrees with it, they can simply view and click a checkbox to confirm or add anything else.
Maatwerk Online did run into one issue. They wanted to retroactively change conclusions and have these changes update automatically for everyone else.
If the Project Manager changes their conclusion at a later time, [currently] this would not be updated in the conclusion of the specialist. But once again, the awesome support guys from Gravity Perks helped us with this. They updated the perk for us within a week and provided us with a snippet that makes it possible to update a field based on another field live. So, if the Project Manager updates their conclusion after a specialist checks the checkbox to copy the conclusion of the Project Manager, the conclusion of the specialist will also be updated.
The results?
Thanks to all these awesome perks we now have a great, smart form. This saves us tons of time and without the help of the support guys from Gravity Perks we would never have pulled this off.
Nick's customer portal is impressively smooth and the benefits are twofold. Team members have an automated system that notifies them when to get started and makes it incredibly easy to collaborate on reports. By consolidating reports into one place for clients, each time clients log in they can get a cohesive view of everything important for their business. It helps streamline collaboration throughout the reporting process and creates a beautiful, personalized customer experience.
I'd also like to take a moment to shout out our customer support. This use case serves as a strong example of how hard they work to get things working just right, and how much customization we can provide for Pro customers.
Gravity Perks sets an example for all other SaaS companies with their excellent support. Not only do they build awesome plugins, but they also provide the best support I've ever run into at a SaaS company. Thanks to Gravity Perks we have optimized our report system to make our clients happy.
Thank you for taking the time to share your story, Nick. Be sure to check out Maatwerk Online's website and if you ever find yourself in need of marketing services while in The Netherlands, these are your guys!
Have Questions?
If you would like to know more about this configuration and how you can set it up yourself, comment on this post or reach out! The same goes if you have a use case of your own you would like to share. Thanks!