March 8th, 2016: Updated snippet to only set future publish date if date field has a value.
With Gravity Forms, allowing users to submit posts to your WordPress website couldn't be easier. Currently, you can set the default status of the generated WordPress post as "Draft", "Pending" or "Published".
This snippet provides the ability to schedule the post to be published at a future date. It can be configured to publish on a user-defined date/time (via submitted form data), a static date/time, or a combination of the two.
Getting Started
Check requirements

Make sure you have Gravity Forms installed and activated.

Install the snippet

Copy and paste the entire snippet into your theme's functions.php file.

Configure the snippet

Change the form ID and the $date and $time variables to match your date and time field.
Configuration
Configuring the snippet requires you to set two parameters starting at line 20: Field ID and Date field ID.
// Change '123' to your form ID; change '7' to your Date field ID.




$

config[

'123'

] = 

array

(
    

'date'

 => 

7

,
);
With these two parameters set, the post will be scheduled at midnight on the date set in the Date field.
Setting the Post Time by Field Value
You can also specify a Time field in the snippet. Whatever time the user inserts into this field will be the time the post is scheduled for publishing.
// Change '123' to your form ID; change '7' to your Date field ID; change '8' to your Time field ID.




$

config[

'123'

] = 

array

(
    

'date'

 => 

7

,
    

'time'

 => 

8

,
);
Bonus: Static Time, User-specified Date
It is also possible to allow the user to select the date the post should be published on but you (the admin) can set a static time for it to published. This is useful if you don't want to overburden the user with options or if you like to publish on a consistent schedule.
To do this, use the same configuration above with two changes to your Time field:
Set a default value with your desired publish time.
Set the field's visibility to "Hidden". This will allow the default value to be submitted but the user won't see the field on the front end.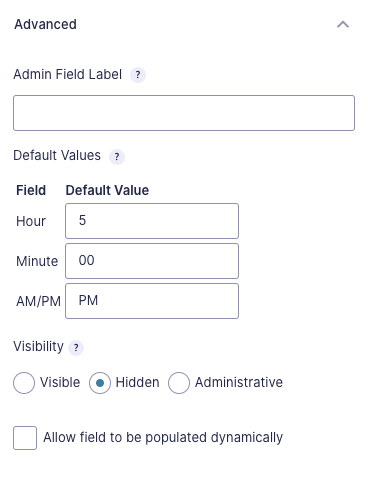 If you have want to manually set the date and allow the user to select the time, just make those changes to your Date field instead!
FAQ
How do I apply this to multiple forms?
To apply this to multiple forms, add as many configurations as you'd like.
// You can add as many forms as you want...




$

config[

'433'

] = 

array

(
    

'date'

 => 

7

,
    

'time'

 => 

8


);



$

config[

'532'

] = 

array

(
    

'date'

 => 

3

,
    

'time'

 => 

4


);
Was this helpful?
If you've found this snippet helpful or have an idea to improve it, let us know in the comments!
Did this resource help you do something awesome with Gravity Forms?
Then you'll absolutely love Gravity Perks; a suite of 47+ essential add-ons for Gravity Forms with support you can count on.