This article requires the GP Conditional Pricing perk.
Buy Gravity Perks to get this perk plus 47 other premium Gravity Forms plugins!
Bulk pricing is a great way to encourage and reward customers for purchasing greater quantities of your products. The more they buy, the greater the discount they receive. It's a win-win!
In this tutorial, we will show you how to setup bulk pricing with Gravity Forms using GP Conditional Pricing. Let's dive in!
Steps
1. Add a Product field
First, we'll add a Product field to our form and set a base product cost. Our demo form has a base product cost of $4.00 but this can be any price.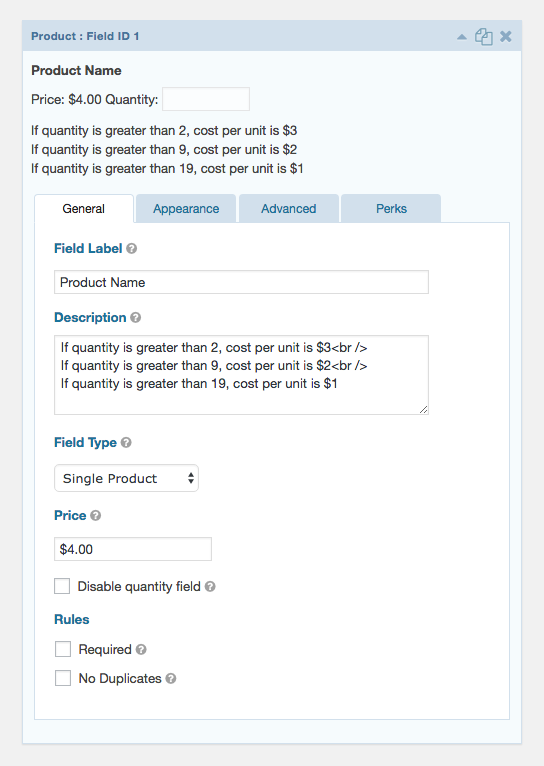 Remember, while we are using a Single Product field here, GP Conditional Pricing supports Single Line, Radio, Drop Down, and Hidden product fields.
2. Create pricing rules based on quantity.
Our Product field is created and a default price is set. Now we are ready to setup our pricing rules. To do this, follow these steps:
Install and activate GP Conditional Pricing.

Select your product's quantity option from the first drop down of the rule UI.

Specify an operator and value to which the quantity will be compared. The example below reads: "This product costs $5.00 if more than five of our product are being ordered."

Click the "Add New Pricing Level" button to create additional pricing rules for this product.
Here is how we've configured our pricing rules for the demo. Each pricing level specifies the conditions that should be met for that pricing level to apply. The product price is automatically adjusted whenever a new pricing level's conditions are met.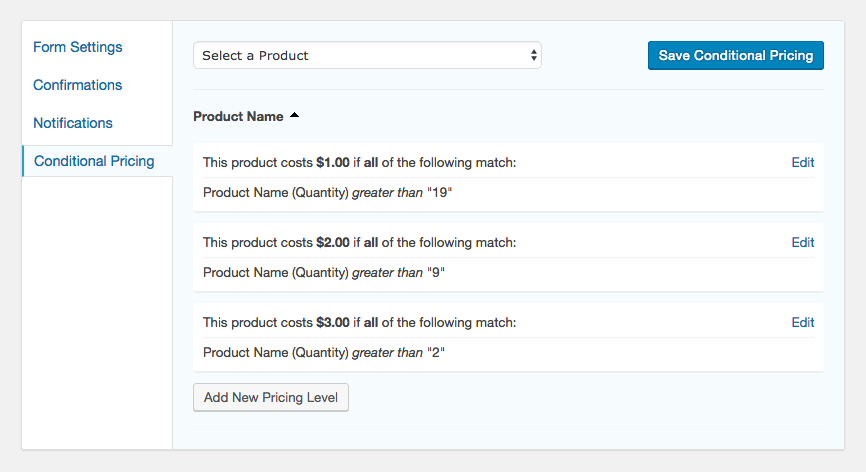 You're all set, now go sell more products!
More Gravity Forms Pricing Resources
What questions do you still have?
Do you still have any questions about how to get this setup? Let us know in the comments.
Did this resource help you do something awesome with Gravity Forms?
Then you'll absolutely love Gravity Perks; a suite of 47+ essential add-ons for Gravity Forms with support you can count on.