Pro wizard Chris Odell built an epic referral program that allows users to refer new people to a client website, receive follow-ups, and enrolls new users in additional sequences for rewards. And it's completely automated.
Among other things, it involves Gravity Forms Populate Anything and Gravity Forms Unique ID.
It's just too cool and we thought we'd take a high level look at each perk's involvement in case y'all ever wanted to try something similar. Ready?
When a user signs up on this wizard's client website through Gravity Forms, they are assigned a unique ID (via, duh, Gravity Forms Unique ID) in a custom field on their profile.
When that same person wants to refer someone else (i.e. for rewards), they use a custom referral link. This link contains a "referral code" in the URL parameters, which is really just their unique ID from step one, so: www.website.com/?zon=XYZ — where "XYZ" = their unique ID.
When that referral link is used for a new sign up, Populate Anything is used to check the URL parameters of the new registration.
If Populate Anything confirms that a new user has the "referral code" (ahem, Unique ID) of the person who referred them, a follow-up email to the original user is sent, thanking them for referring a new user!
This creates a chain reaction of other automations. Notably, a drip email sequence to the email in the Email field from the original form to allocate rewards for creating a new referral.
From here, Unique ID creates a new referral code for the new user, and the process continues… on and on.
See how the backend is configured below. The 4 fields are all included on-screen, where, according to Chris:
The first field captures the 'ZON' parameter from the new user, and the second/third fields use Populate Anything to pull the original user's name/email so we can send them a notification. The fourth field auto generates the new referral 'ZON' code for the new user to send to other people.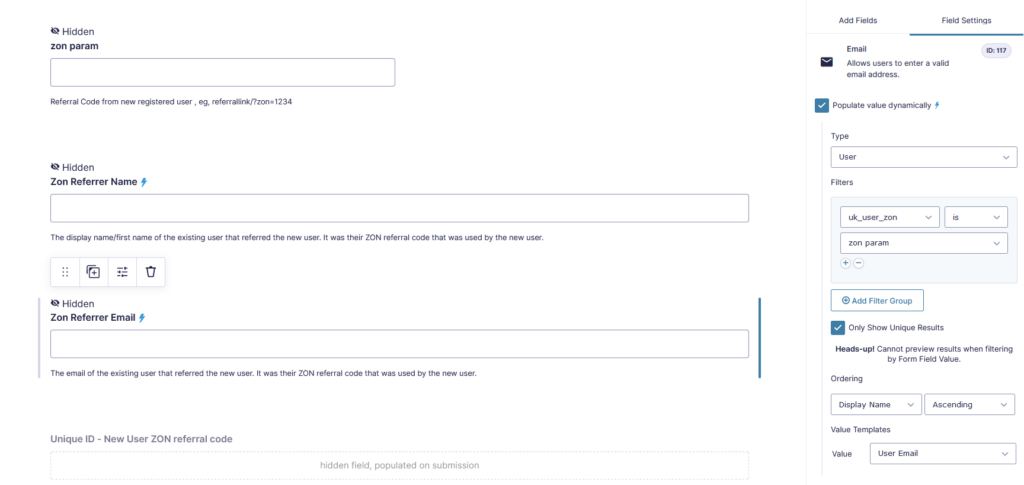 So simple! And so powerful. If you're trying to build something similar, don't hesitate to reach out!