This article requires the Gravity Forms Media Library perk.
Buy Gravity Perks to get this perk plus 47 other premium Gravity Forms plugins!
In this simple tutorial, we will show you how to map uploaded files or images to an Advanced Custom Field using the Gravity Forms Advanced Post Creation Add-On and GF Media Library. Let's get started.
Looking to upload files to Advanced Custom Fields
without
the APC Add-On? We have
an article
that walks you through it.
Steps
Step 1 – Add an Image or File Custom Field with Advanced Custom Fields
Start by adding a File, Image, or Gallery Advanced Custom Field. Make sure to set the Return Value to File ID or Image ID.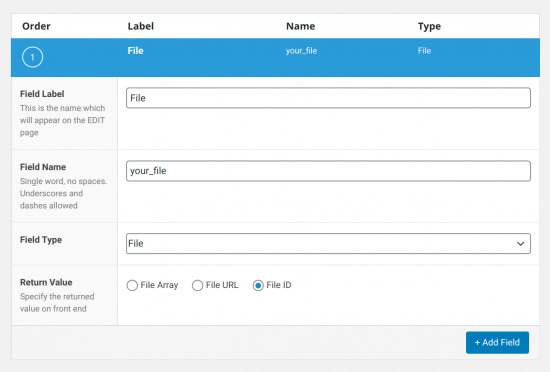 Step 2 – Add File Upload Field to Your Form
Add a File Upload field to your form and activate GF Media Library in the Perks tab.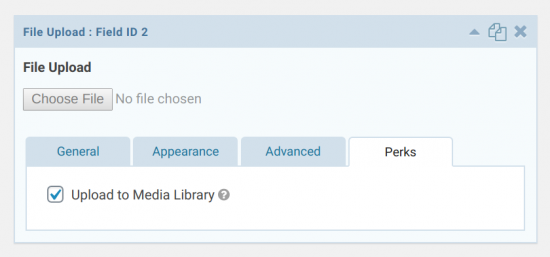 If you're planning on mapping the field to an Image Gallery, check Enable Multi-File Upload in the General tab.
Step 3 – Set Up Advanced Post Creation Feed
Navigate to the Advanced Post Creation Feed settings and add a new Feed. Scroll down to Custom Fields and map your ACF custom field to your File Upload field.

If your Custom Field hasn't been used before, it won't be available in the Drop Down. Simply scroll to the bottom and select "Add New Custom Field Name", then paste in the Field Name from the ACF Settings.
That's It!
Once the field is mapped, any post created with the form will automatically map to the appropriate ACF field.
Did this resource help you do something awesome with Gravity Forms?
Then you'll absolutely love Gravity Perks; a suite of 47+ essential add-ons for Gravity Forms with support you can count on.