August 17, 2020: Added support for inter-week schedules (e.g. starting on a Saturday and ending on a Wednesday).
Scheduling options in Gravity Forms are limited to specific dates and times. Setting a hard limit for when a form is active is effortless, but it doesn't support daily schedules. This plugin lets you apply daily schedules to your forms. For example, you can create a form that is only accessible during business hours.
Getting Started
Make sure you have Gravity Forms installed and activated.
Click the "Download Plugin" button above and save the file to your Desktop.
Upload the file to your site via the WordPress plugin uploader.
Usage
Daily Schedule
Once installed, navigate to your Form Settings and scroll down to the Restrictions section. Check "Schedule form" and enter only a Start and End Time; do not enter dates. The plugin will automatically set today as the start and end date and will handle updating it every day.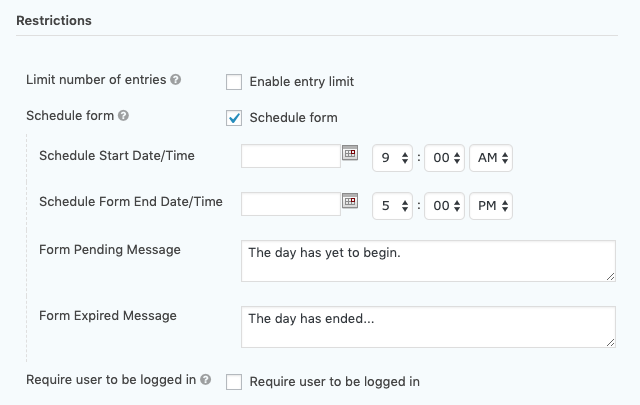 That's it! Your form now has a daily schedule. It can take evenings off, same as you.
Preview mode will always show the form, regardless of the daily schedule. Use
GP Live Preview
to preview how the form will behave once it's added to a page.
Weekly Schedule
The snippet also supports weekly schedules. To set a weekly schedule, simply specify the numeric day of the week in the Start and End Date inputs. The numeric days translate where Sunday is 0 and Saturday is 6, with the other days represented by the numbers in between.
For example, to schedule the form Monday–Wednesday, set the Start Date to 1 and End Date to 3.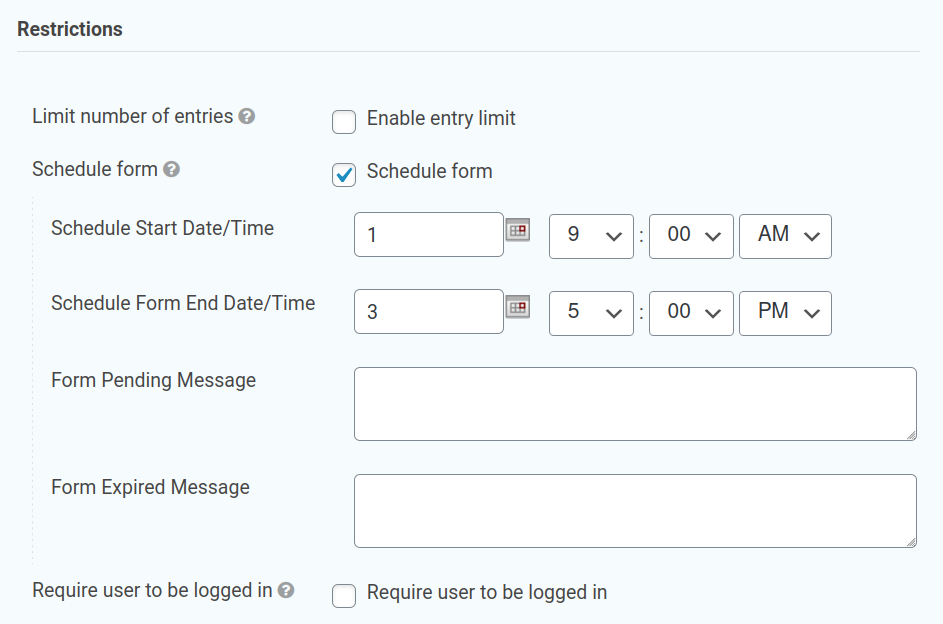 Questions? Feedback?
We'd love to hear your feedback on this simple plugin. Does it make your life easier? Do you have any features on your wishlist? Share your thoughts in the comments below!
Did this resource help you do something awesome with Gravity Forms?
Then you'll absolutely love Gravity Perks; a suite of 47+ essential add-ons for Gravity Forms with support you can count on.