July 1, 2020: Updated Field Groups snippet to work with when limits were applied to Radio Buttons.
This article requires the GP Limit Choices perk.
Buy Gravity Perks to get this perk plus 47 other premium Gravity Forms plugins!
Overview
With the current global pandemic COVID-19, many essential brick-and-mortar businesses find themselves in need of a curbside pickup scheduling solution. This is new territory for many, and while there are plenty of sophisticated eCommerce options, they require significant setup and time to get going.
Using Gravity Forms and Gravity Forms Limit Choices, you can easily build a form for your customers to schedule their pickup time and limit the number of pickups available per time slot and per day. Let's get started.
Build Your Form
We'll begin by adding the necessary fields to our form to start collecting orders. Since this type of form requires capturing lots of data, I suggest making it a multi-page form.
On the first page, we ask for the customer's name, email, and phone number. I have also included a Radio Button field asking who is picking up the order. It has conditional logic attached to it to show another Name field if someone else is picking up the order.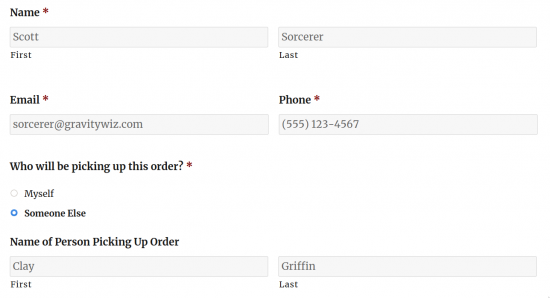 The second page is where the customer puts together their order. My form uses List fields because it gives the user an easy system to add items to their list in organized categories.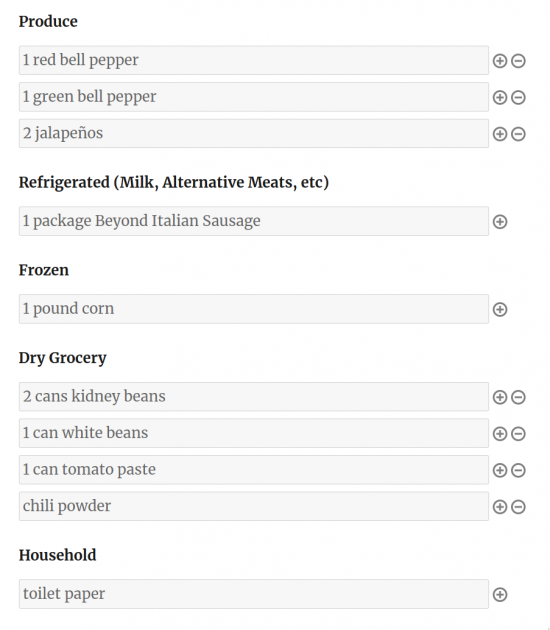 There's also a section at the bottom asking if they will allow substitutes and any additional notes.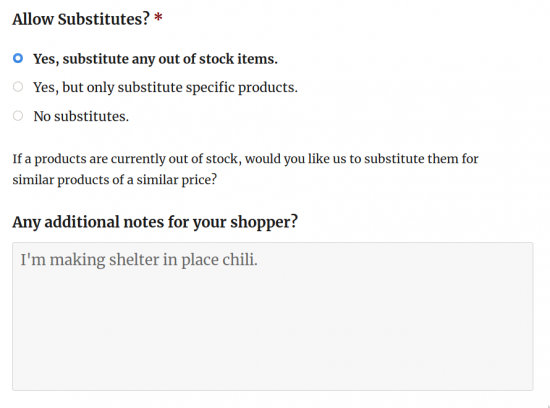 On the last page, the pickup date and time are selected. To do this, our form has a Date and a Drop Down field. In the Drop Down field I have entered all of my available pickup time windows. There's also a couple of Consent fields to make sure our customer understands how this process works.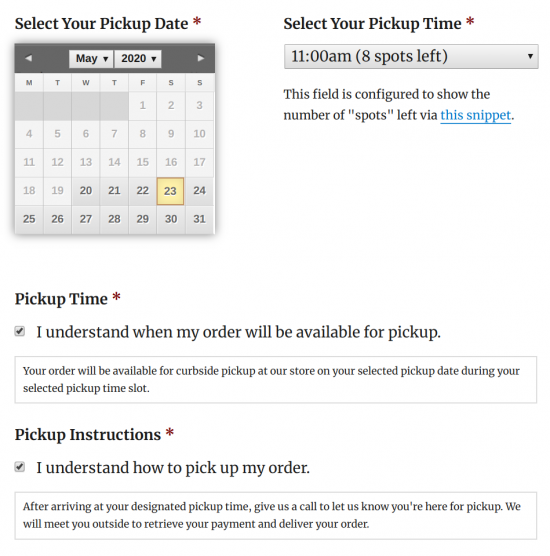 Set Up Choice Limits
With the form built, the next step is to limit the pickup time slots to prevent too many customers from trying to pick up at the same time. Start by adding limits to each of the times in the Drop Down field.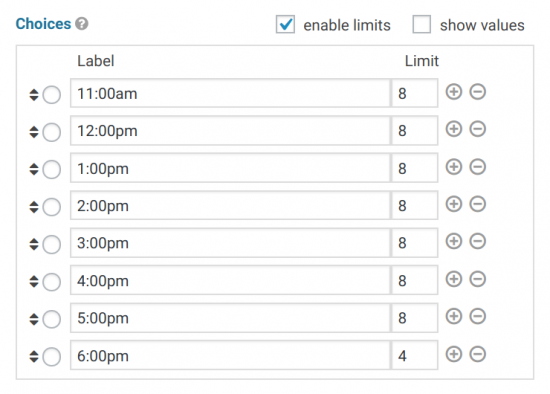 Next, we need to create a Field Group so that the limited time slots are per day and not per form. A Field Group is a paired set of fields that that creates a unique choice. The Date and Drop Down fields will be grouped together, and the time slots will apply on a per-day basis. This is done through a snippet.
Using the snippet is simple. Paste it into your theme's functions.php file and edit these lines at the bottom.
new

 

GP_Limit_Choices_Field_Group

( 

array

(
    

'form_id'

   => 

123

,
    

'field_ids'

 => 

array

( 

3

, 

4

 )
) );
Change the form_id to your Form ID, and replace the numbers in the field_ids array to your Date and Drop Down fields.
That's all there is to it. The Date and Drop Down fields are now grouped together.
Wrapping Up
You should now have a form that functions similarly to the demo, and you can start taking orders for pickup at your store with confidence, all without having to invest the time, money, and energy into a robust eCommerce solution.
Plus with a Gravity Forms solution, you can configure the form per your specific requirements instead of trying to cram them into an existing eCommerce solution that isn't well suited to your unique business.
Taking It Further
Show Number of Spots Left
To show the number of spots left like we have in the demo, use the snippet below. It will automatically update the number of spots left per day.
Did this resource help you do something awesome with Gravity Forms?
Then you'll absolutely love Gravity Perks; a suite of 47+ essential add-ons for Gravity Forms with support you can count on.