Greetings, wizards!
What a wild first quarter. 🤯
To our customers, thank you for making all this wild wizardry possible. We love what we do and you make it all possible. 🤗
Ready to dig into another week of wizardry?
The Complete Multi-page Form UX Package
Super excited to announce that Multi-page Navigation now integrates seamlessly with Page Transitions!
Multi-page Navigation makes navigating large multi-page forms so much easier. Each page name becomes a clickable link allowing instant traversal of even the largest forms. Helpful additions like "Back to Last Page" and "Next Page with Errors" buttons streamline the completion of those hefty forms.
Page Transitions slides in with delicious page transitions, delighting your users and giving them a little dopamine hit – just the motivation they need to keep moving forward! Enable auto-progression to create truly frictionless form navigation.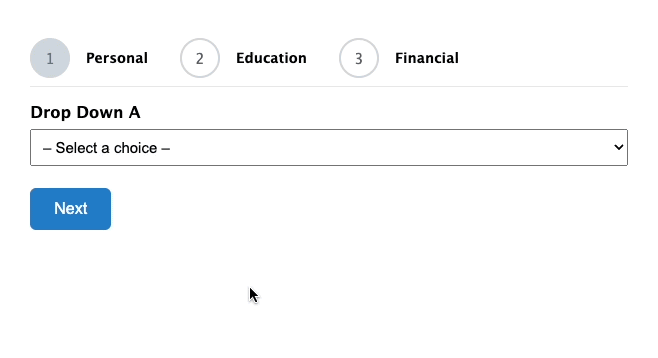 This week, Multi-page Navigation was updated to ensure that Page Transitions' liquid animations are preserved when using page links to navigate to any form page. And it works with custom page links too!
Note from the Support Team
We've been getting a lot of reports about a conflict with the WooCommerce Gravity Forms Product Add-ons plugin and Nested Forms. Long story short, it's disabling AJAX on all forms globally which makes Nested Forms cry. 😭
We've added some bullet-proofing to Nested Form to account for this issue so please update to the latest version (v1.1.22+) asap.
For those of you who have begged us to make our own integration with WooCommerce, let's talk. 😉
If you're not familiar with Nested Forms, it's just the most robust solution for collecting repeatable data with Gravity Forms, like ever.
Resources
New Walkthrough | Petitions Powered by Gravity Forms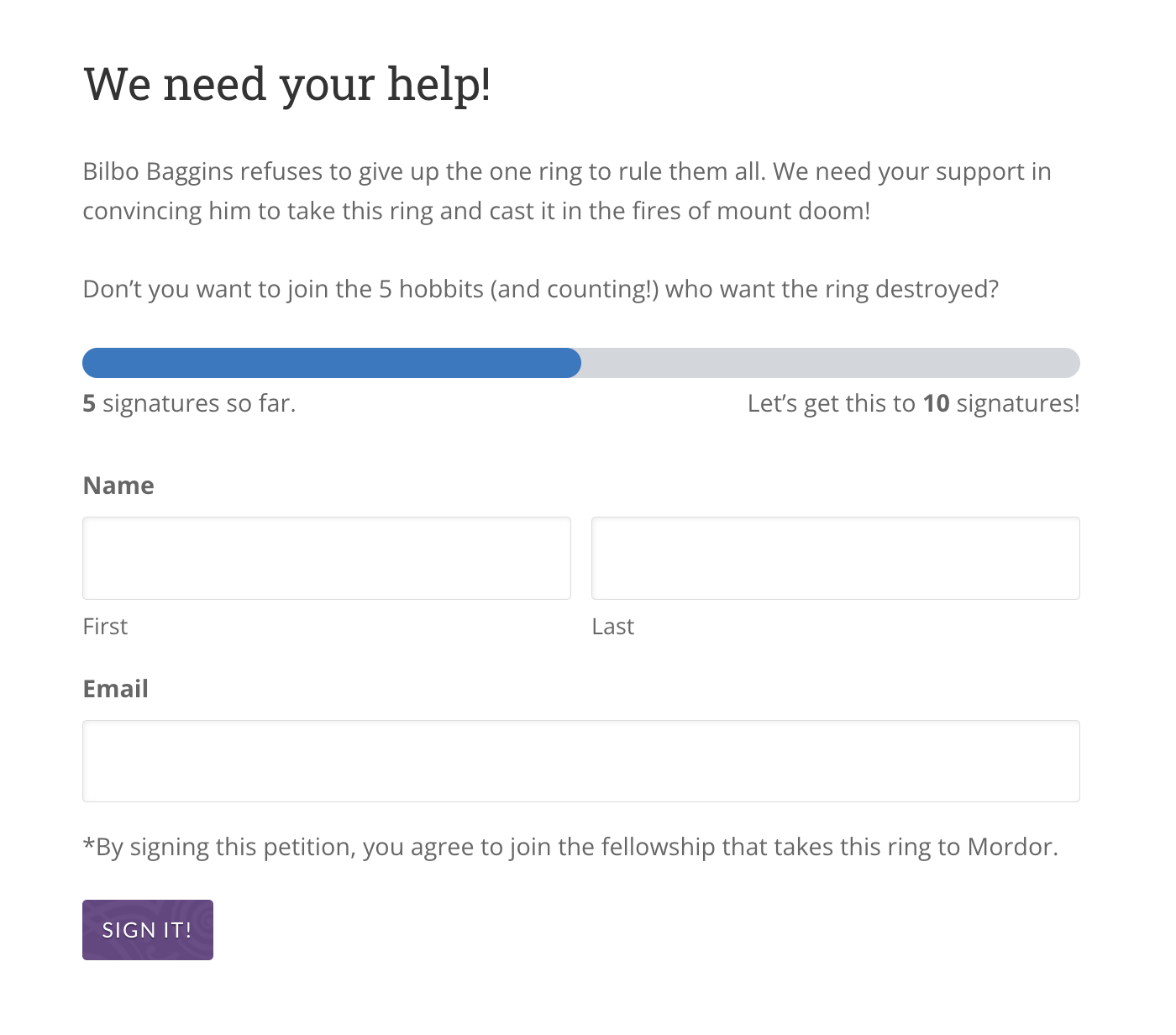 We worked with a Gravity Perks power wizard known as Guilamu to create a crash course on setting up your own petitions with Gravity Forms. Learn how to:
Display a progress meter for the number of signatures.
Configure multiple goals to keep your audience engaged.
Display the number of signatures anywhere on your site.
Send follow-up emails to signers.
Hot Snippet | Single Submission Nested Form Fields
We had a great question in yesterday's wizarding workshop:
If you are doing events with guest sign ups that require signing a waiver (assuming the waiver is on a separate form), is there an easy way to associate that waiver submission with the event registration for admins to keep track?
This sounded like a perfect fit for Nested Forms and I was immediately reminded of our Single Submission snippet. See it in action!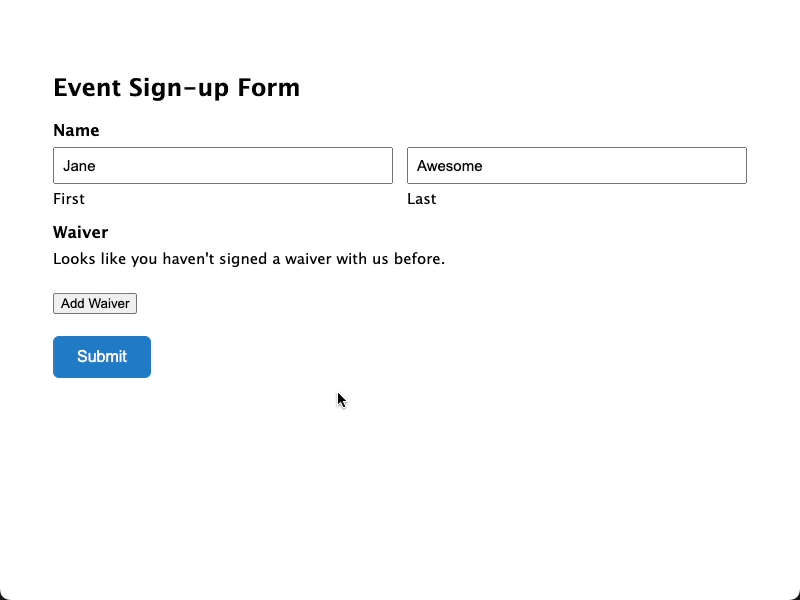 Back Pocket Snippet | Show All Results to Admin with Populate Anything
You're using Populate Anything to populate posts submitted by the current user. You want to populate all posts for admins though. This snippet does the trick!
Under the hood: This snippet will look for any filter that is based on the "Current User ID" and remove it. This means all your other filters will be preserved. For example, if you have a filter to only show posts from your "Books" custom post type and where the "Author" is the "Current User ID", this snippet would still only show "Books" and not posts from all post types.
Gravity Perks
GP Advanced Phone Field (v1.0.13)
Added German translation. Credit: Brian Haas of digicube.li.
GP Advanced Save & Continue (v1.0.3)
Fixed a potential JavaScript error when using the [gpasc_drafts] shortcode.
Fixed PHP 8 warnings.
GP Copy Cat (v1.4.63)
Fixed issue where numbers using decimal comma format could get converted incorrectly. For example, 1.000 (one thousand) could become just 1 in some situations.
GP Date Time Calculator (v1.0-beta-4.14)
Fixed an issue where using January 1, 1970 in calculations wouldn't work as expected due to it being the Unix Epoch.
GP Easy Passthrough (v1.9.19)
Fixed issue where fields with single quotes in their labels would not auto-map correctly.
GP Entry Blocks (v1.0-alpha-2.16)
Fixed an issue with the Filters block showing '(Required)' for fields that are marked as required.
Fixed PHP 8 warnings.
GP Limit Checkboxes (v1.3.12)
Added new GPLimitCheckboxes.getCheckboxCheckedCount() and GPLimitCheckboxes.isGroupBelowMin() JavaScript methods.
GP Multi-Page Navigation (v1.2)
Added support for using GP Multi-Page Navigation with GP Page Transitions.
Added "Update URI" to plugin header to improve security.
GP Nested Forms (v1.1.22)
Added bullet-proofing to ensure that child forms always have AJAX enabled.
GP Populate Anything (v1.2.48)
Fixed issue where dynamically populated values of inputs in multi-input fields could cause an error to be triggered if no objects are returned and the entry is being edited.
Fixed potential PHP errors/warnings when using Live Merge Tags with multi-input fields.
GP QR Code (v1.0.7)
Updated the scanner library.