What does it do?
This plugin makes working with textareas in the Gravity Forms Form Editor easier by launching an expanded textarea in a modal window. The expanded textarea is larger, increasing the readability and ease-of-use when working with larger amounts of content.
Features
Expand textareas in Form Editor.
Improve usability of textareas in WordPress Admin.
Supports all applicable Gravity Forms field settings.
Defaults to applicable settings for HTML, Calculation, and Post Body fields, but can be activated for textarea-based settings for all fields.
Automatic expansion.
Save a click and automatically expand textarea settings when they receive focus.
Automatic updates.
Get updates and the latest features right in your dashboard.
Awesome support.
We're here to help! And we mean it.
Documentation
How do I enable this functionality?
After installing and activating the Gravity Forms Expand Textareas, the Expand Textarea button will appear directly below textareas in HTML and Calculation fields.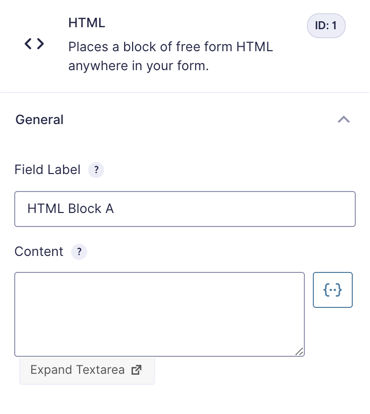 Click this button to launch the textarea in a modal window. Add or modify the textarea content and click the Insert button to preserve your changes to the textarea.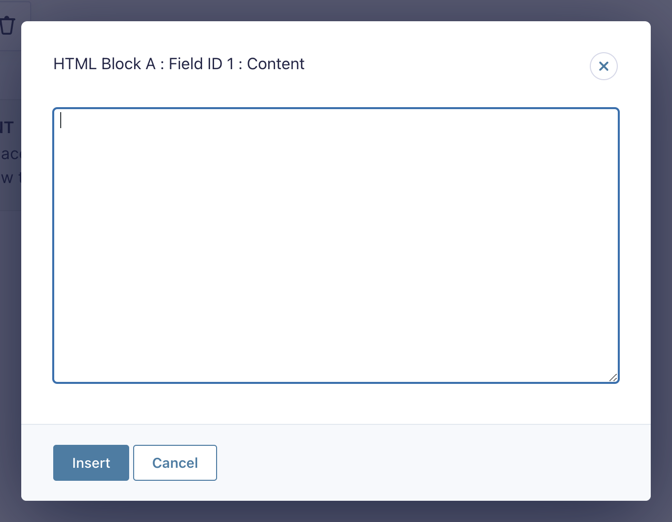 ---
Feature Details
Settings
There are a couple options that can be configured from this perk's "Settings" page. This perk's settings are available by navigating to Forms > Perks, and clicking on the Settings link for the perk.
Add expand option for all textareas
By default, this perk adds an Expand Textarea button to specific set of field setting textareas that would most benefit from having the expanded textarea (specifially the "HTML Content", the Calculation "Formula", and the Post Body "Content Template" textareas).
Enable this option to make the button appear for all Form Editor textareas.
Expand textarea when you click inside the textarea
By default, you must click the Expand Textarea button to expand the textarea. Enable this option to automatically launch the expanded textarea modal when you click on the textarea to edit.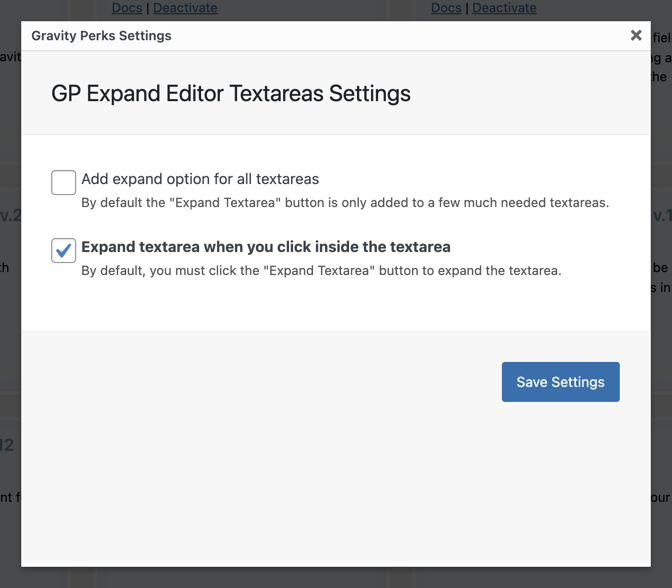 If you're working with longer submissions, it can be helpful to automatically save form progress.
Gravity Forms Advanced Save and Continue
builds on core Save and Continue functionality, adding the ability to automatically save form progress, reload that progress on return, and manage multiple drafts.