What does it do?
This plugin allows you create flexible and powerful pricing levels for your Gravity Form Product fields.
Save yourself the hassle and frustration of creating twenty different Product fields with different prices when what you really want is a single Product field with a variable price.
Gravity Forms Conditional Pricing can handle even the most complicated pricing variations with an easy-to-use interface for creating unlimited pricing levels per Product field.
Features
Pricing levels for Gravity Forms Product fields.
Create an unlimited number of flexible and powerful pricing levels.
Intuitive interface for managing pricing levels.
Manage Product pricing using familiar conditional logic rules.
Offer bulk discounts, pricing based on user input, and more!
Build complex pricing rules without the headaches.
Improved performance.
A single Product field replaces twenty Product fields containing conditional logic, improving site performance.
Integrates with Gravity Forms Conditional Logic Dates.
Apply date-based pricing rules with Gravity Forms Conditional Logic Dates, also part of the Gravity Perks plugin suite.
Automatic updates.
Get updates and the latest features right in your dashboard.
Awesome support.
We're here to help! And we mean it.
Documentation
How do I enable this functionality?
After installing and activating Gravity Forms Conditional Pricing, you can create Conditional Pricing feeds for any Single Product, Drop Down, Radio Button or Hidden Product field. Let's walk through that process.
| | |
| --- | --- |
| | Add a Product field to your form and click Update to save your changes. |
| | Navigate to Form Settings > Conditional Pricing and select your Product from the Select a Product Drop Down. |
| | Set the price and rules to qualify for this pricing level. Add as many pricing levels as you'd like and click Save Conditional Pricing to save your rules. |
More details on pricing rules can be found in the
Pricing Rules
section.
Now that you know how to create pricing rules, let's dive into what Conditional Pricing can do.
---
Feature Details
Pricing Levels
Pricing Levels consist of a price and a set of Pricing Rules that determine which pricing level should be used for the Product field's price.
You can create an unlimited number of Pricing Levels for each of your Product fields. Levels can be rearranged by dragging and dropping them in your preferred order.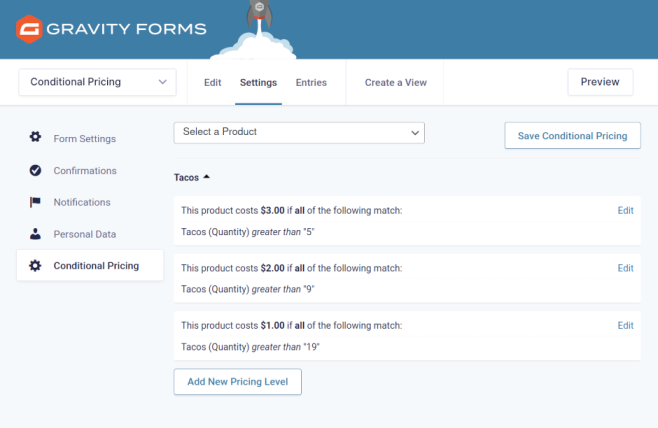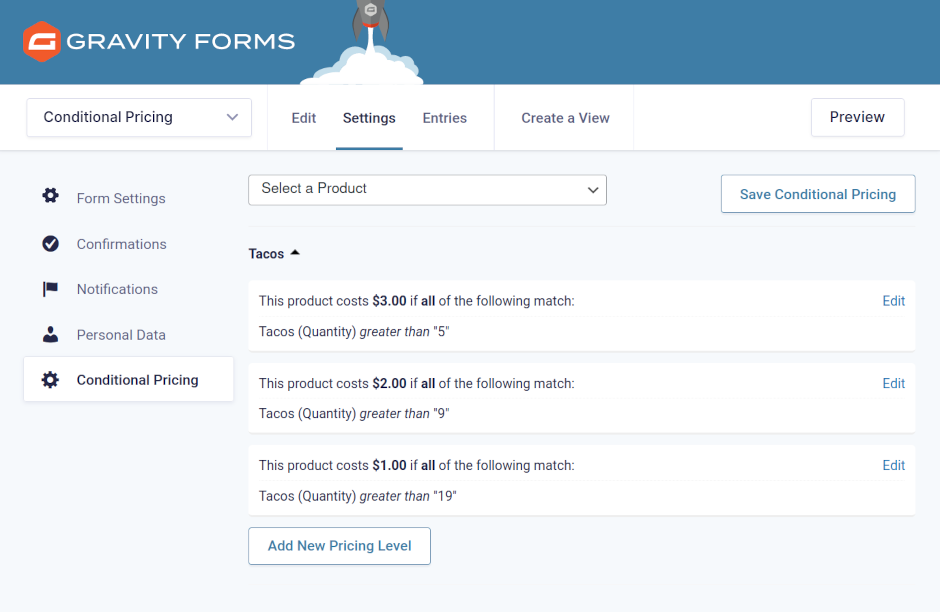 Pricing Levels use a first match policy, so levels with your strictest rules should be first.
Pricing Rules
Pricing Rules work just like Gravity Forms' default conditional logic but instead of showing/hiding a field, the Pricing Rules determine which Pricing Level will be used to set the price of the Product field.
Pricing Rules consist of three fields:
A list of all fields on your form that are available for conditional logic.
A list of all the operators that can be used to compare the value of the first field with the value of the third input.
The value to which the selected field will be compared. The format of this field will change based on the selected field type.

Just like conditional logic in other parts of Gravity Forms, you can add an unlimited number of rules to any Pricing Level by hitting the plus icon.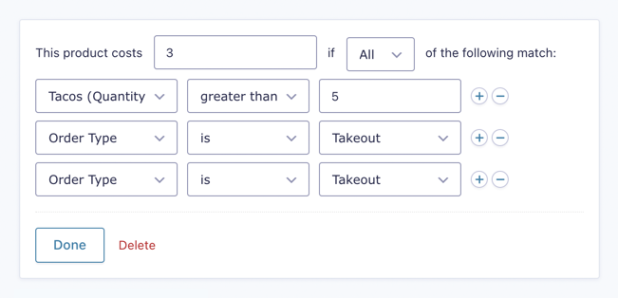 Pricing Importer (Beta)
The Pricing Importer tool allows you to update pricing rules in bulk from a CSV file.
To enable the Pricing Importer tool, add this filter to your functions.php file:
add_filter( 

'gpcp_enable_importer'

, 

'__return_true'

 );
Once this function is added, navigate to Form Settings › Conditional Pricing, select the product you want to update, and click Import Pricing Levels: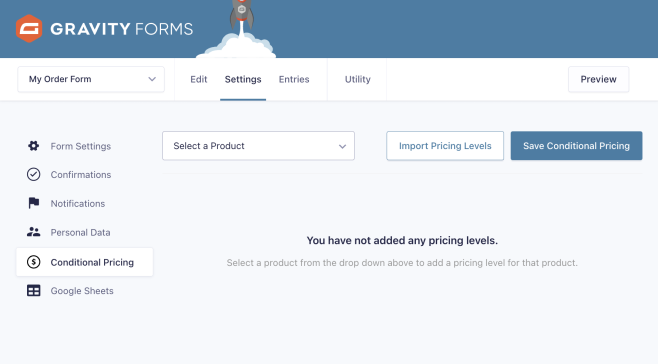 Choose your CSV file and click Prepare Import File.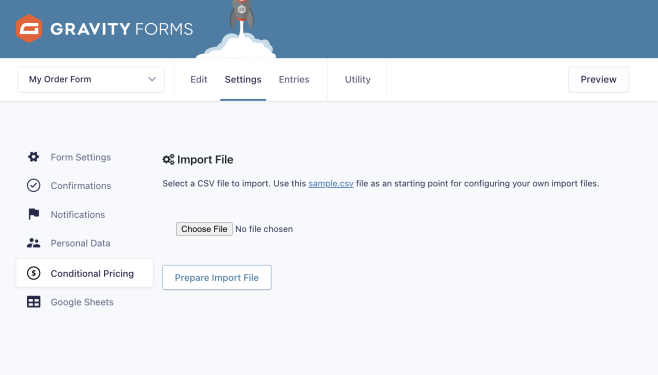 Curious about what your CSV file should look like? Click the sample.csv link to see an example that you can use as a starting point!
Inside this UI, you'll find a list of importing options, including the ability to append, prepend, and merge pricing rules.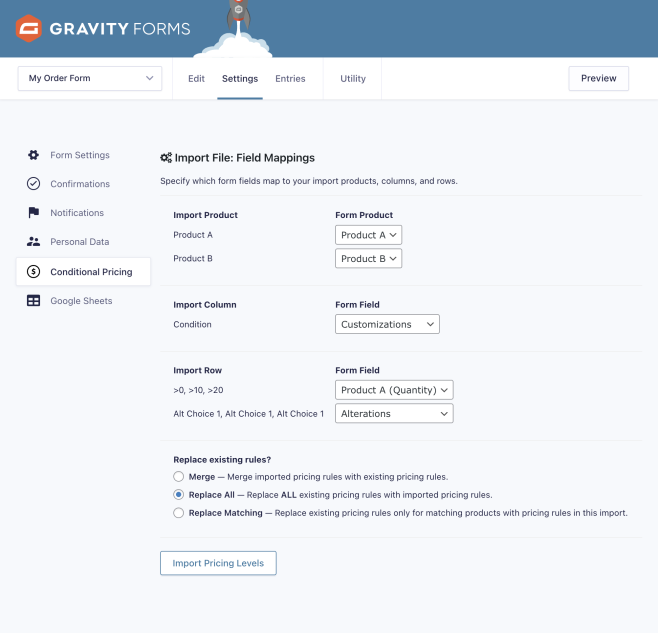 How do the rule replacement options work?
Merge: Add new pricing levels from the import file. Existing pricing levels are not updated.
Replace All: Replace all existing pricing levels with new pricing levels in the import file.
Replace Matching: Replace existing price levels only for matching products in the import file.
If you have a large number of pricing levels, consider using your CSV file as a source of truth. Whenever you need to update a pricing level, you can update your CSV file and import it with the
Replace All
method. This method ensures your CSV file and your pricing levels in Gravity Forms are always in sync.
If you have different CSV files for each product, consider using the Replace Matching method instead.
Here's an example of what things look like post-import: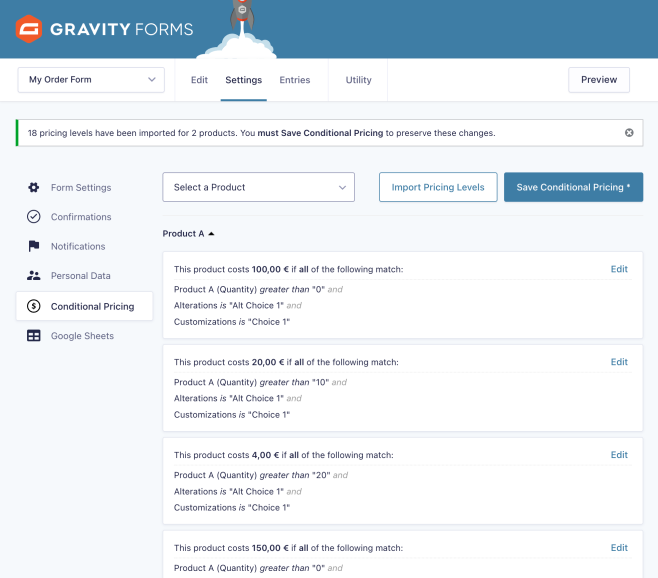 Reminder: Make sure to click the Save Conditional Pricing button to save the imported pricing rules.
Additional Information
If you're using Conditional Pricing with the WooCommerce Gravity Forms Product Addons, do not use the hidden-total class as recommended in their documentation. Instead add the gf_invisible class to achieve the same result.
---
Integrations
Invoicing Templates by Gravity PDF
GP Conditional Pricing integrates with Gravity PDF's Invoicing 2.0+ templates. These templates allow for business-ready invoice generation from Gravity Forms submissions. They're highly customizable, translatable, support conditional logic, and are GST/VAT compatible.
There's a variety of modern templates to choose from and all templates integrate with GP eCommerce Fields, GP Advanced Calculations, GP Inventory, GP Unique ID, and GP Price Range. Learn more about Gravity PDF's invoicing templates here.
Known Limitations
Gravity Forms does not have a reliable way to uniquely identify choices in choice-based fields. As such, pricing rules for individual Drop Down and Radio Button products are index-based. Removing or reordering choices in a Drop Down or Radio Button Product will corrupt your pricing rules.
Conditional Pricing does not support User Defined Price or Calculation Product fields.
Option fields are not currently supported.
Translations
You can use the free Loco Translate plugin to create translations for any of our Perks. If you've never used Loco translate before, here's a tutorial written for beginners.
FAQs
Can I show updated prices in choice-based Product fields?
We have a two-part snippet that will display prices in choice-based fields and update them when pricing conditions change. Follow these steps to use it:
Paste this PHP snippet into your theme's functions.php file.
Add this JavaScript snippet to your form. We recommend using our Custom JavaScript plugin to make this part easy.
With the two snippets installed, prices for choice-based fields will automatically update as the user interacts with the form.

Hooks
Gravity Forms has hundreds of hooks. Check out our
Gravity Forms Hook Reference
for the most thorough guide to Gravity Forms' many actions and filters.
Related Resources